Webinar on designing your career by UIPS, PU
Speakers focused on behaviour based interview questions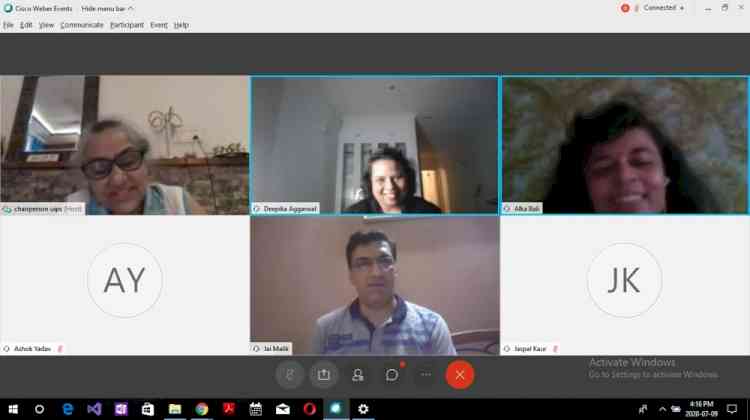 Chandigarh: University Institute of Pharmaceutical Sciences (UIPS) organized an international webinar for the students on "Designing your Career" by one of their very own well-placed alumnus, Dr Deepika Aggarwal, Director – Research & Development, iX Biopharma Ltd, Australia under the Innovation, Entrepreneurship & Career (IEC) Series of MHRD Institution's Innovation Council and Placement Cell of the UIPS.
 She enlightened the bright young Pharmacy students on her professional journey in the Pharmaceutical industry and her learnings. She elaborated on how to capitalize on various opportunities to ensure a promising future. She also focused on "behaviour based interview questions" in the form takeaways to deal with challenging circumstances and held a very interactive Q&A session at the end.
Professor Indu Pal Kaur, Chairperson UIPS & President IIC and Head Placement Cell of UIPS, welcomed the audience and introduced the speaker. All the faculty members of UIPS joined the session. More than 150 participants from Panjab University and other National and International Institutes attended the webinar. She shared that such talks would surely improve the placement prospects of the institute and would help students to transform themselves to be employers than employment seekers.
Dr Deepika Aggarwal is a Ph.D. in Pharmaceutics from UIPS, Panjab University and a Post-Doc from Medical College of Wisconsin, Milwaukee, US with a vast experience in the field of pharmaceutical dosage forms and pharmacokinetics.
Dr Aggarwal is a research and technology leader with experience of leading teams and collaboration with functions like commercial and supply chain to deliver new products (NPD) for consumer healthcare and bio-pharmaceutics for global markets. She is experienced in End to End new product development strategy, consumer insights, developing strong innovation pipeline, product strategy development, bio-relevant dissolution media, in vitro evaluation, IVIVC, bioequivalence study, clinical and regulatory requirements of different geographies and is also involved in the technical due diligence of external partners.