Webinar on Challenges in Education organized in Doaba College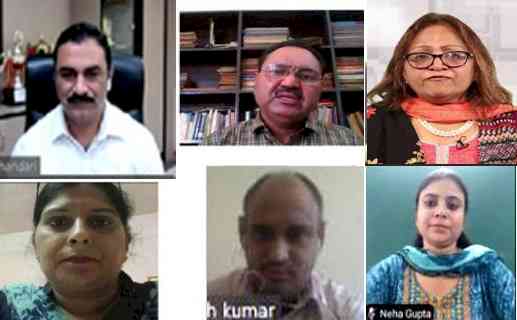 Jalandhar, September 20, 2021: Department of Education of Doaba College organized a webinar on the Challenges in Education. Dr. Deepa Kauts, Professor and Head, Department of Education, Guru Nanak Dev University, Amritsar graced the occasion as resource person. She was warmly welcomed by Principal, Dr. Pardeep Bhandari, and Dr. Avinash Chander, Head and 84 participants.
Dr. Pardeep Bhandari stressed on inculcating emotional intelligence along with academic excellence in the would-be teachers. Dr. Deepa Kauts laid stress on the importance of Guru in the life of an individual. In the by-gone days there used to be an emotional bonding between the teachers and taught which is becoming somewhat loose these days. She stressed on the emancipator role of the teacher who emancipates his students from ignorance, poverty, social taboos and leads to his social and economic mobility. Dr. Avinash in his concluding remarks, talked about the challenges the whole education system is facing these days under the impact of new economic policy, digitalization and online mode of education and said that Doaba College is fully prepared to handle all these challenges confidently . The webinar was moderated by Prof. Neha Gupta and vote of thanks was presented by Prof. Manjeet Kaur.