Webinar on "Building Brands in the Automobile Segment" at GNA University
The webinar was quite interactive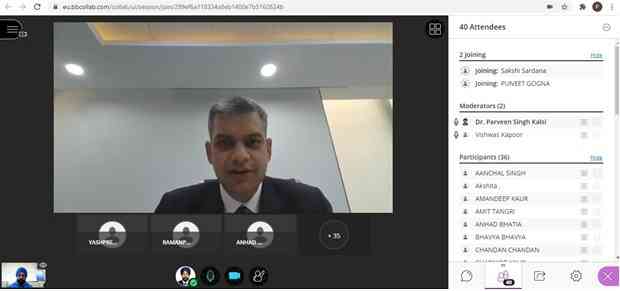 Jalandhar: GNA University organised a Webinar on "Building Brands in the Automobile Segment" for the students of GNA Business School. The resource person for the webinar was Mr. Vishwas Kapoor, Lead – Sales Planning at Renault India Pvt. Ltd. The webinar started with the Welcome Address of Dr. Jagdeep Singh, Deputy Dean GNA Business School. 
The main objective of the Webinar was to acquaint the students with process of building phenomenal brands in the marketplace. The resource touched upon the concepts on marketing, sales and brand building with examples from Renault India on how they launched products like the Duster, Kwid and Triber. Mr. Vishwas Kapoor also explained how Renault India used innovative ways to position their products with strong attributes, making them loved by their customers and helping Renault establish itself as a strong brand in India. He also threw light upon The Kiger, the next product offering from Renault India, scheduled to be launched in Q1 of 2021. 
The webinar was quite interactive, as students and faculty members asked relevant queries from the Resource person which were appropriately handled and answered. The webinar ended with the vote of thanks. 
Mr. Gurdeep Singh Sihra, the Pro-Chancellor, GNA University expressed, "I appreciate the efforts of GBS in organizing such webinars to increase the academic acumen of the students and making them fully apprised with the global market trends". 
Dr. V. K. Rattan, the Vice-Chancellor, GNA University said, "GNA University is always ready to offer the best to our GUites to make them become more knowledgeable and beat with the current market scenarios".
 Dr. Monika Hanspal, Dean Academics, GNA University said, "I am firm believer that the consistent conduct of such valuable webinars will surely enhance the capabilities and skills of the management students".