Webinar by PUAA on teaching and learning tools
The participants interacted with Prof. Kumar and asked many questions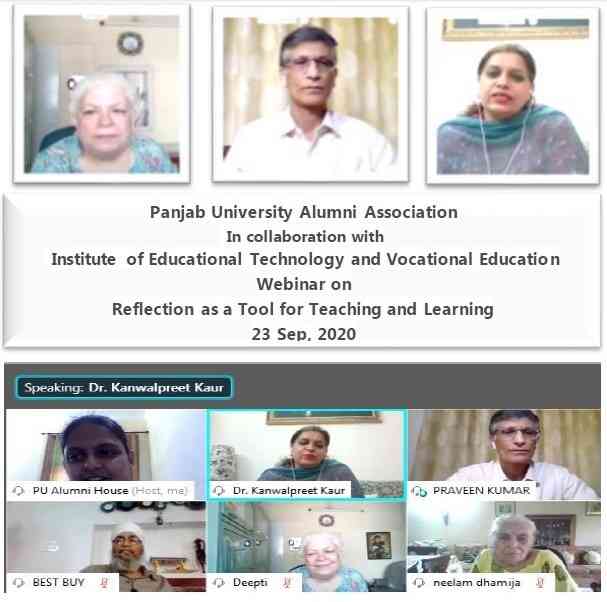 Chandigarh:  Panjab University Alumni Association in collaboration with the Institute of Educational Technology and Vocational Education organized a webinar ' Reflection as a Tool for Teaching and Learning' by Prof. Praveen Kumar today. Prof. Kumar started his lecture by sharing some interesting anecdotes and incidents about the effect of reflection. Next he shared some excerpts from famous texts like Tom Sawyer. He discussed Metacognition, Reflective Learning Process, the role of reflection in Goal Setting, Classroom Management, Self-Awareness etc. His examples about how reflection can make a teacher or student more accepting about his or her area of improvement kept the participants interested. He discussed important theories of learning like Behaviorism, Cognitivism and Social Constructivism. He concluded by discussing how repositioning a negative event can improve the overall learning environment of the classroom.
Prof. Praveen Kumar, who taught English language and literature in Himachal Pradesh for close to 30 years, retired as Principal in 2019. He has been actively associated with HP University, Shimla in connection with the restructuring of the syllabi for UG classes, besides being a member of the Board of Studies in English for two years. He co-edited an anthology The Threshold, which was prescribed by H.P. University for B.A. 1st year students. Currently he is the coordinator of English Teachers' Forum of Himachal Pradesh. He is frequently invited by HP State Council of Educational Research and Training as a Resource Person in training programmes conducted for college and school teachers. He has chaired sessions in Conferences and Seminars on many occasions, and the papers presented by him at various forums have been well-received.
Earlier, Dr Kanwalpreet Kaur, Chairperson, Institute of Educational Technology and Vocational Education, PU, Chandigarh welcomed and introduced Prof. Praveen Kumar to the participants. 

The participants interacted with Prof. Kumar and asked many questions related to Metacognition, Reflections, value systems etc. Dr. Kanwalpreet Kaur proposed a vote of thanks.