Webinar- "Art of Fashion Merchandising" at UIFT and VD, PU
The event concluded with the participants' queries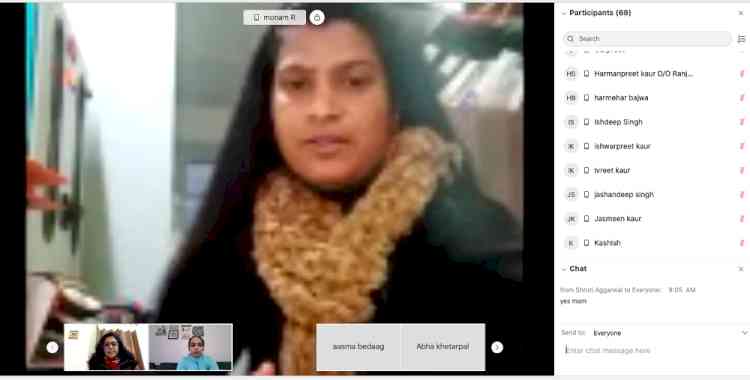 Chandigarh: University Institute of Fashion Technology & Vocational Development, (UIFT & VD), Panjab University, Chandigarh, organized a webinar titled "Art of Fashion Merchandising" today. Faculty members of the department and various colleges, research scholars and students of Fashion Technology attended the webinar.
Dr Anu H. Gupta, Chairperson of UIFT & VD, introduced and welcomed the speaker- Ms Mona, Business Head, Katbro Corporation Pvt. Ltd.,Greater Noida, a leading manufacturer, trader and exporter of a broad assortment of Knitted garments -Men's Knitted sweater, Women Knitted Cardigan etc. With an intensive experience of more than 14 years in Garment Manufacturing and skilled in Textile Sourcing, Fashion & Strategic planning, she elaborated the basics and advanced details of Fashion Merchandising. She emphasized that 'Fashion Merchandiser is the backbone of Apparel Industry'.
It is important to have technical know-how of the design as well as the knowledge to manage the design and the product. Merchandiser has to see the specifics of the product sent by the buyer and further work on the same-whether yarn, fabric, apparel, dyes, accessories, etc.In case of knitted garments as sweater, the role of Merchandiser starts with the procurement and processing of yarn. It is the merchandiser who has to collaborate with all the departments in order to have a successful and timely shipment. She elaborated the qualities required for a successful Merchandiser in the Apparel industry. Fashion students were advised to have passion for the work, sincerity, team work and time management in order to be a successful Fashion Merchandiser.
Every industry looks at the profit earned and thus merchandiser plays a major role in planning and executing all orders on schedule and ensuring or maintaining the quality expected by the buyer. The expert also elaborated an important part of the apparel business- 'Costing'. The webinar concluded with the participant's queries and discussions on different facets of Fashion Merchandising.