Wealth generation from waste management-a paradigm shift: Saroj
He is Head Centre for Environmental Health and Engineering, University of Surrey, U.K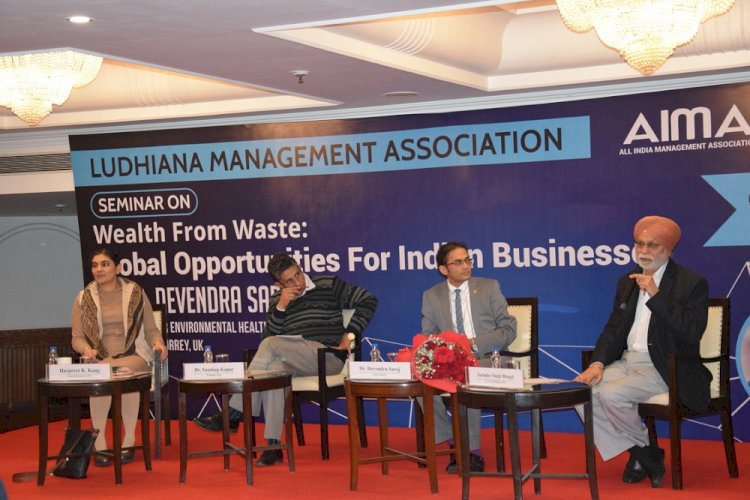 Ludhiana: Generating Wealth from Effective Waste Management for Sustainable Development was the theme of a Seminar organized by Ludhiana Management Association-LMA. Ms. Harpreet Kang, General Secretary, LMA urged the members to take ownership for initiating waste reduction and waste management practices in their organizations, as optimization of waste was no longer an option, but a dire necessity. Resource Person for the session, 'Wealth From Waste: Global Opportunities for Indian Businesses.' Dr. Devendra Saroj, Head Centre for Environmental Health & Engineering, University of Surrey, U.K. 
Saroj deliberated on the issues regarding Classification of Wastes, methods for waste management, issues regarding collection and recycling of wastes, costs involved in the process and also the revenues and wealth that could be generated in the process of Wealth Management. He emphasized that waste management was no longer a choice, rather it should be a priority for those addressing the issues of Public Health, Environmental Protection and Optimal Utilisation of Resources. Saroj shared different case studies from across the globe about the initiatives being taken by policy makers, concerned citizens and business to ensure that the collection and management costs are optimized for breakthrough results. He also appreciated the Govt.,s 5 R Policy of Waste Management, but its success would be a function of collaborative effort between the policy makers and the citizens. 
Saroj also evaluated different Waste Disposal methods like Landfill Management, Material Recycling and Recovery facilities for adoption by societies. Saroj advised that the best option would be to minimizes generation of wastes, but as this was unavoidable, proactive steps like sorting at source, using latest technology for recycling, recovery of raw materials from wastes must be initiated at the earliest in the public interest. Waste Management Initiatives were not only being taken by the Governments ,Businesses and the citizens in the Developed World, but also by entrepreneurs in third world countries, where with minimum investment, significant levels of wealth and also employment were being generated. 
Saroj asserted that it was not the quantum of investment, but the collaborative spirit of all the stakeholders, that determines the success in sustainable development initiatives. He also maintained that each nation and community could decide their own waste management strategies & technologies, but ushering a paradigm shift towards environment and sustainable development was essential for the success of these initiatives. Dr.Sandip Kapur, President LMA hoped that Members would explore opportunities for wealth generation in waste as recycled waste could be used as raw materials for manufacturing products, so could be different opportunities for service businesses in the value chain for Waste Management. Dr. Saroj was felicitated by Sr. Vice President, LMA
S.S.Bhogal and Former Presidents Anil Kumar and Dr. K.N.S. Kang./(Feb 26)