Water Accumulation On Roads: Bharat Bhushan Ashu takes round of city and issues necessary instructions
Warns officials of action if they fail to check this problem during rainy season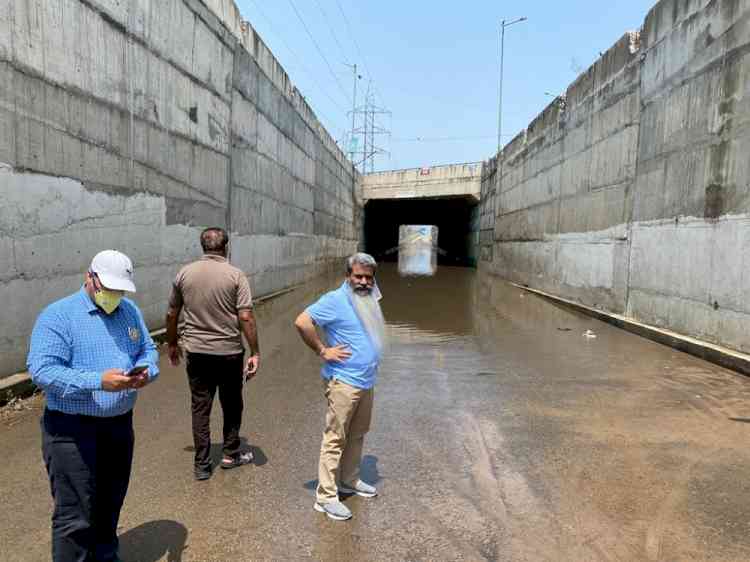 Ludhiana: In view of the water accumulation on the roads during the ongoing monsoon season, Punjab Food, Civil Supplies & Consumer Affairs Minister Mr Bharat Bhushan Ashu today took a round of various parts of the city. He was also accompanied by Mayor Mr Balkar Singh Sandhu, besides several others.
    Mr Ashu took a round of the under passes along Sidhwan Canal that are located under the Ludhiana-Ferozepur Road, C Block of Bhai Randhir Singh Nagar, Panj Peer Road, Hambran Road, besides several others.
    He informed that the MC Ludhiana officials were called at all places where problem of water accumulation was present. He said that both the under passes along the Sidhwan Canal were cleaned by the officials and strict directions were issued that this thing should not be repeated in the future.
    He also directed the MC officials to ensure that all the water recharging wells should be cleaned so that the rain water seeps through them in case of heavy rainfall, as was witnessed in the city today.
    Mr Bharat Bhushan Ashu also visited the Panj Peer Road and Hambran Road and directed the MC staff to ensure that rainwater does not accumulate there in future. A poklane machine and JCB machines have also been deputed along various points of Budha Nullah so that there is no overflow of water in case of heavy rainfall.
    Mayor Mr Balkar Singh Sandhu informed that on the directions of Mr Bharat Bhushan Ashu, the MC has set up a dedicated 24X7 control room (number 0161-4085039) where residents can complain in case of any problem related to water clogging/drainage/water mixing etc. He said that senior MC officials Mr Ravinder Garg (9988820840) and Mr Ravinder Singh (9780900123) can also be contacted for this purpose.