Warm reception to winning Ludhiana Basketball Academy (men and women) teams 
Men wins 71st Senior Basketball Championship, women team remains runners up at PAP grounds Jalandhar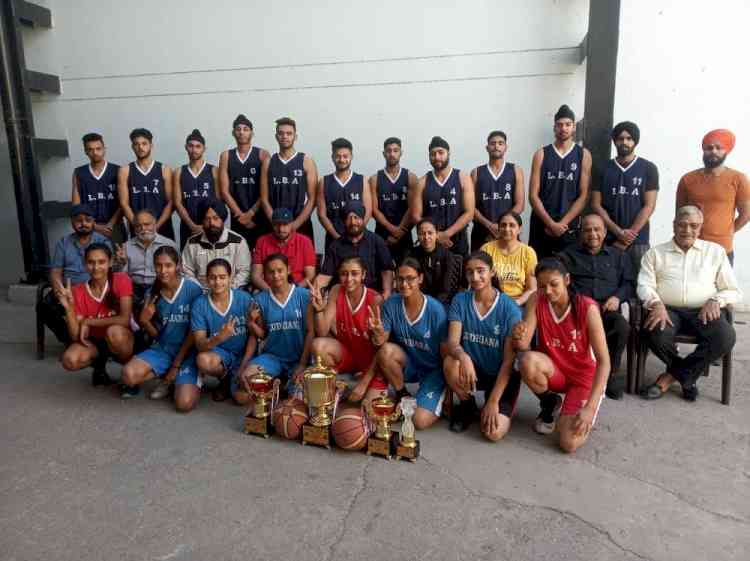 Ludhiana: District Basketball Association today gave a warm reception to the winning Ludhiana Basketball Academy (Men and Women) teams which came today at Guru Nanak Stadium after men winning 71st Senior Basketball Championship while Women team remained runners up at PAP grounds Jalandhar which concluded on 2nd of April.
The winning LBA team beat Jalandhar District team with 43-33 scores. The players were Jagdeep Bains, Amjjyot  Singh, Princepal Singh, Gurbaz Singh, Mannatpreet Singh, Manjot Singh, Navkarman Singh, Jasjit Singh, Arvinder Singh, Nawaz Singh Panaich. Coaches Rajinder Singh, Narender Pal and Davinder Dhindsa were also felicitated. 
The Ludhiana district's own women team was placed third. Women team coach Ms.Saloni was also honoured. 
Present on the occasion were DBA President J P Singh, VP Vijay Chopra, General Secretary Sukhbir Dhaliwal, Paramveer Bhogal, Avinish Aggarwal and treasurer Brij Goyal. 
Teja Singh Dhaliwal, General Secretary of Punjab Basketball who is also Sr VP BFI, while congratulating the winning teams players and coaches informed that many team players which LBA has groomed are already playing international matches and are drafted in LBA league matches also. He is confident of teams of women section also bringing laurels in future championships. 
Brij Goyal requested punjab government to help players get suitable jobs without much hassles otherwise talent will be picked up by other central departments.