Waheguru Blood Sewa organized voluntary blood donation camp 
The event held in the Department of Transfusion Medicine at DMCH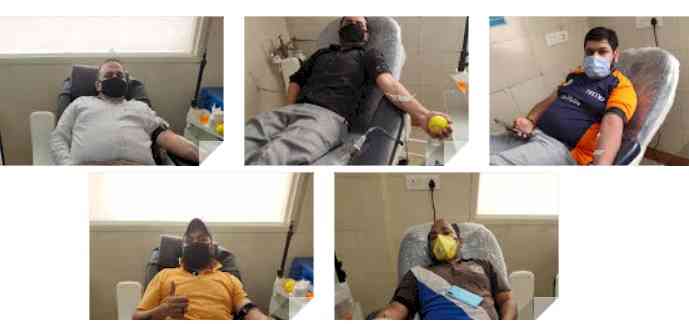 Ludhiana: Blood donation is a very sacred word. A donor can save the lives of others. That is why, it is said that, "Your blood can give a life to someone"  or "Your blood donation can give a precious smile to someone's face".  There are many organisations and individuals who are doing this sacred work. Waheguru Blood Sewa is one of these organisations. This organisation on Wednesday organized a Voluntary Blood Donation Camp in the Department of Transfusion Medicine at DMCH, Ludhiana. The organizers extended thanks to Secretary of DMCH Managing Society Prem Kumar Gupta for conducting the camp. He has appealed to all the members to take proper preventive measures and maintain social distancing while participating in a camp. 
 
Total 62 units of blood were collected under the supervision of Dr Amarjit Kaur (Professor & Head of Transfusion Medicine Department, DMCH). Blood donated during the camp will be provided to Thalassemia and Cancer patients.   
 
President of NGO Ajay Jain said that Waheguru Blood Sewa was formed two years back and has a chain of voluntary blood donors to help the patients in need. Ajay Jain has so far donated blood 95 times. The organization also provide financial help to the poor and needy patients.
Those who also participated in the camp include Nipun Sharma, Lucky Bhatia, Pawan Suri, Lucky Maan and others.