VYRL Originals presents Pyaar Chahiye a super catchy song by Rapper Bali Starring Dhanashree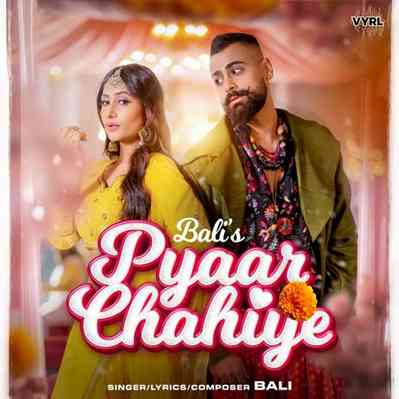 Mumbai, December 7,2021: VYRL Originals has a surprise in store for their fans this party season as they bring to you a groovy dance number sung by pop sensation Bali which features the gorgeous dancing diva Dhanashree Verma Chahal in 'Pyaar Chahiye'. 
With a chill style and a groovy bass, this song is sure to infuse a newness into our playlists. Pyaar Chahiye has been sung & written by Bali himself and the sound is immersed in a cool vibe that goes well with his personality. The combination of beats, music, and dance along with the style of writing in this song, is a whole new genre. Bali with this song enters the commercial pop music space keeping his usual comic elements intact.
This super cute and fun song is set in the backdrop of a wedding where Bali is expressing his urge for romance and instantly falls in love when he lays his eyes on Dhanashree. However as the story unfolds in the music video, the modern day Romeo has to find new ways to impress Dhanashree as she plays hard to get. The song revolves around Bali's hilarious yet genuine efforts to woo her.
Get set to join Bali and Dhanashree for one of the most exciting and fun modern day shaadi songs of the year which will surely leave you with a smile. 
Speaking about this brand new song, Bali said, "I have created this song in a chill-out style so that people will have fun in every beat and enjoy this wedding season in a completely different way. We have also created a video showing how single boys and girls enjoy finding their match in a wedding and all the fun that follows from those almost unfruitful searches. I am sure we will rock this wedding season,"
Excited about her new release, Dhanashree said, "I always love experimenting with dance and this song is a package deal of that. Dancing to this song has certainly fulfilled one dream from my bucket list. The music has a magnetic pull that will drag everyone to the dance floor. Everyone who sees the song will relate with it within moments because we feel like this has happened with us at some point of time. I am eager to see how people like our hook step and how they would shower their love on us. A big thank you to VYRL Originals for making me a part of this wonderful process."