Virtual Laughter Yoga Session at PU Hostels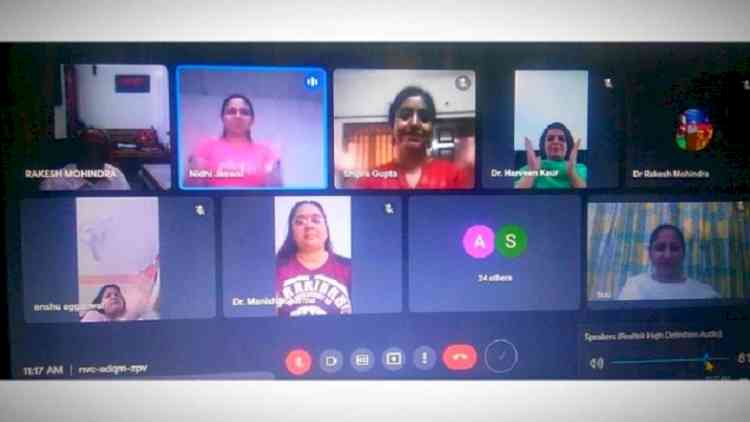 Chandigarh: Panjab University Girls Hostel 9, 10 and International Hostel,  celebrated the International Yoga Day by organizing a virtual Laughter Yoga Session today under the dynamic leadership of the Vice Chancellor Prof. Raj Kumar and able guidance of Deans Student Welfare, Prof S. K. Tomar, Prof. Meena Sharma and Prof Ashok Kumar. 
International Yoga day is celebrated globally on June 21 with the aim to inculcate our age-old tradition of yoga in one's lifestyle to maintain a good physical and mental health and also to connect oneself  with nature. Especially 'Laughter Yoga', a combo of laughter and yogic breathing, is well known therapy to boost the immune system and reduce the stress hormones. It works on the principle of 'Laughing for no reason' and offers physical, mental, spiritual and emotional benefits
 The event was coordinated by Dr. Harveen Kaur ,Warden, International Hostel, Dr. Shipra Gupta ,Warden, GH-9 and Dr. Varinder Kaur ,Warden, GH-10. 
The resource person Dr. Nidhi Jaswal, Project Coordinator and Technical Officer ,Hypertension Program in the Department of Community Medicine and School of Public Health, PGIMER discussed the origin and benefits of laughter yoga and practiced various laughter exercises like clapping, lion laughing, and breathing in the session. She urged participants to revive their childhood by making laughter yoga as a regular practice. 
The session which was attended by the hostel residents, wardens, hostel staff, faculty members and their families was very informative, interesting and benefitted the participants of all ages. 
MANDATORY ATTENDANCE SHELVED FOR EVEN SEMESTER STUDENTS BY PU
Keeping in view  the unprecedented Covid-19 pandemic situation and looking at the problems of students, Panjab University has suspended the mandatory condition of attendance for  those appearing in even semester examinations  for all it's  teaching departments as well as all the affiliated ,constituent colleges as well as regional centres for this session  2020-2021 only, informed Prof V K Sinha, Dean University Instructions. 
He added that this should not be made a precedent in future. However, the teachers shall submit their attendance record in the office of their departments concerned as usual.
PU RESULTS
This is to inform that the result of examination December, 2020 of the following courses have been declared/made public today.
•        B.Sc.(Fashion Designing ) 5th Semester Examination - December,2020
•        Bachelor of Business Administration 1st Semester Examination – December, 2020
The same can be seen at the respective Departments/Colleges or Panjab University website.