Vinod Tawde reached Chandigarh for first after his elevation as BJP national general secretary
Workers welcomed him with great enthusiasm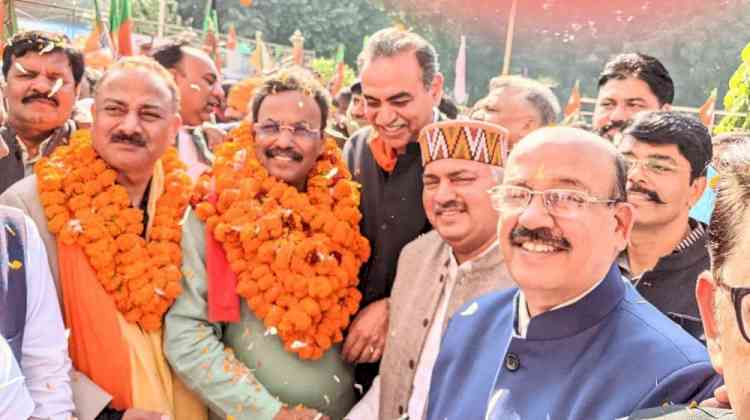 Chandigarh, November 21, 2021: Bharatiya Janata Party's newly elevated national general secretary Vinod Tawde reached Chandigarh on Monday.
Tawde, who is also in-charge of Chandigarh Municipal Corporation elections, was welcomed with great enthusiasm by members and workers of BJP Chandigarh unit at the International Airport.
Later, his convoy reached the BJP party office 'Kamalam', Sector 33, where workers distributed sweets.
Addressing the workers, Tawde said BJP is the only political party which promotes grassroot level workers by giving them more responsibilities.
"My elevation in the party clearly indicates that ground level workers are suitably rewarded in this party. I urge every worker of Chandigarh to work hard and with full devotion. Contribution of workers will be reevaluated and responsibility will be distributed accordingly," said Tawde.
On becoming the new national general secretary of the saffron party, Tawde said that he needs cooperation from Chandigarh's workers. "Everyone should come together and win all 35 seats in the Chandigarh Municipal Corporation elections," said Tawde.
He said that the Chandigarh Municipal Corporation election is scheduled to be held on December 24, which is a day before the birth anniversary of Atal ji.
"Winning these elections will be a perfect and true tribute to Atal ji," said Tawde.   
Meanwhile, State President Arun Sood said that it's a joyous occasion for the local BJP unit "BJP is the largest party in the world and it's a matter of great honour to be its national general secretary," said Sood. Himachal Pradesh BJP co-in-charge Sanjay Tandon also congratulated Tawde and thanked all the party workers for reaching at Sector 33 based office here to welcome him.
Besides Sood and Tandon, State Spokesperson Kailash Chand Jain, State Organization General Secretary Dinesh Kumar, Chandigarh Mayor Ravikant Sharma, General Secretaries Chandrashekhar and Ramveer Bhatti and State Secretary Amit Rana along with other workers also reached here to welcome Tawde.