Viklang Sahayata Camp: Free artificial limbs distribution
There were 27 beneficiaries with 31 procedures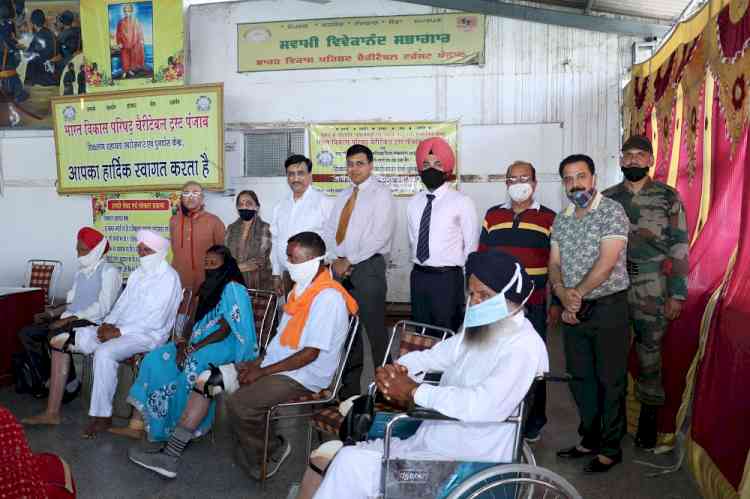 Ludhiana: To serve this mission, Nar Sewa–Narayan Sewa,   a Viklang Sahayata Camp for Free Artificial Limbs Distribution was organized  Dr. BVP Kitchlu Branch in collaboration with BVP Charitable  Trust  Punjab, Ludhiana on Saturday 27th  March 2021 at BVP Divyang Sahayata Kender, Rishi Nagar, Ludhiana.  
The camp was organized by observing all possible norms and precautions against Corona (Covid-19) pandemic. The patients were called in a staggered manner in batches of 4-5 with a view to maintain proper social distancing and avoid overcrowding in the camp premises.  
There were 27 beneficiaries with 31 Procedures, which received Artificial Limbs (Calipers, upper limbs, above & below knee limbs, hearing aids & Try Cycles).  The camp was sponsored  by Er. Anil Gupta, MD, Tech Auto Pvt Ltd. Ludhiana. Er Anil Gupta & family sent their blessings and good wishes for the success of the camp.  
Today very Prominent Persons Col. Ashish Tiwari, Let. S.B.S Bhullar, Hav. Rajdeep Sharmaattended the camp. Col. Ashish Tiwari has all praise for trust for doing the great job for the physically challenged persons.  
Good wishes, blessings and cooperation were received from Mrs Aruna Puri, Sh Narinder Mittal, Dr. DRC Bakhetia, Er. B.K Bhalla, Mrs. Suman Gupta, Mrs Alka Mehan, Trust Manager R.K Walia, Dr. M.L Sharma, Pardeep Malhotra, Mrs S Sud, Mrs Sushma Sood,  Sh SK Tiwari & many other.