Vigyan Utsav- Punjab' showcased State's Research & Development Infrastructure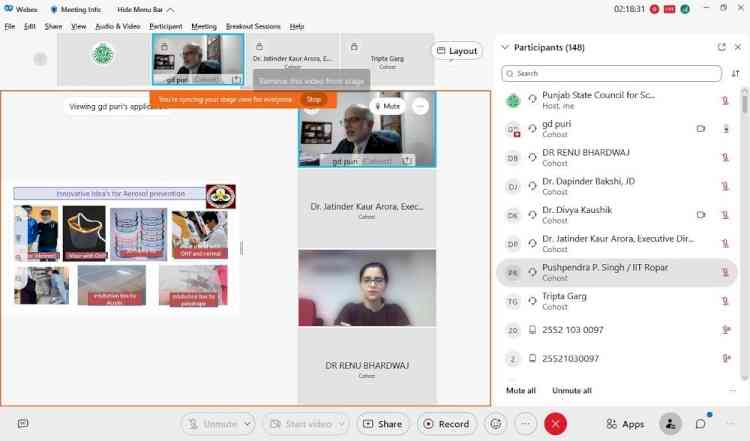 Chandigarh, November 27, 2021: The Government of India has initiated Azadi Ka Amrit Mahotsav to celebrate and commemorate 75 years of progressive India. In this regard, Department of Science & Technology, Govt. of India has launched 'Vigyan Utsav', a special initiative to showcase country's "Science Technology Innovation (STI) Ecosystem for Atma Nirbhar Bharat" under the State Science and Technology Programme.  As a part of this endeavor, all States are showcasing key components of State's STI Ecosystem to the relevant stakeholders by organizing series of events throughout the year. 
In this context, Punjab State Council for Science & Technology (PSCST) organized special event to showcase R&D Infrastructure of Punjab through web platforms. 
Dr. Debapriya Dutta, Advisor & Head, State Science & Technology Programme, DST, Govt. of India, while delivering the opening address shared that science & technology has served as growth engine for post-independence development of the country.  Further, theState Science & Technology Councils are nurturing and linking local STI ecosystem with Country's vision of AtmaNirbhar Bharat. Dr. Jatinder Kaur Arora, Executive Director, PSCST gave an overview of R&D infrastructure in Punjab and shared that the Council is working relentlessly to synergize and augment this ecosystem. Dr. Tripta Garg, Scientist, Department of Scientific & Industrial Research, GoI shared the advantages of getting registered as Scientific and Industrial Research Organization (SIRO) and specifically urged knowledge intensive industry to avail these benefits.
In the technical session, Dr. G.D. Puri, Dean, PGIMER gave insight into R&D infrastructure created forcombating COVID pandemic.  He also shared that  adedicated hub for development and promotion of innovative biomedical devices has been set up in PGIMER. Dr. Pushpendra Singh, Project Director, IIT,Ropar shared the initiatives being taken up by iHub-AWaDH, the Agriculture and Water Technology Development Hub set up in IIT, Ropar with support of DST, GoI. 
The key universities in Punjab have set up Common Instrumentation Facilities having advanced instrumentation.  Prof. Renu Bhardwaj, Director Research,shared about such facility set up at Guru Nanak  DevUniversity. Dr. Sanjit Singh, Dean, Research, Chandigarh University shared case study regarding setting up of R&D infrastructure through Public-Private Partnership.  The colleges of Punjab were urged to strengthen their laboratories by availing grant under 'Fund for Improvement of S&T Infrastructure (FIST) and Star Life Science Programme of Ministry of Science & Technology, Govt. of India by Dr. Amit Anand from Khalsa College, Amritsar. 
A large number of researchers from universities and institutions and science faculty & students from colleges participated in the event.