Vigilance Awareness Week 2020: Webinar on 'Vigilant India, Prosperous India' organised
SSP Vigilance Rupinder Singh launches poster depicting theme of Vigilance Awareness Week 2020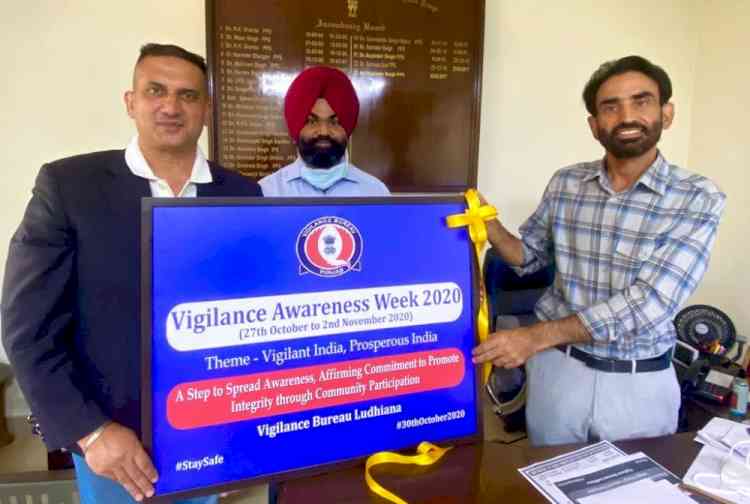 Ludhiana: With an aim to spread awareness campaign affirming commitment to promoting integrity through community participation, the Ludhiana Vigilance Bureau on Friday organised a webinar on the theme 'Vigilant India, Prosperous India' during ongoing 'Vigilance Awareness Week 2020' here. The webinar was organised under the patronage of Senior Superintendent of Police (SSP) Vigilance Bureau Ludhiana Rupinder Singh. 

A special poster depicting the significance and theme of Vigilance Awareness Week 2020 was also launched by the SSP Vigilance Rupinder Singh.

Addressing the Webinar, SSP Vigilance Rupinder Singh said that the purpose of the Vigilance Awareness week was to draw the attention of all sections of society especially the youth regarding the significance of ethical conduct in the building of honest, non-discriminatory and corruption-free society.

Advocate High Court Harpreet Sandhu shared that the Vigilance Awareness Week is meant to spread awareness within the commons enabling them to know about the role of Vigilance Bureau, which is an intelligence wing to check corruption in Public Departments and who are found guilty, have to face the relevant sections as per provisions of law.

Deputy District Attorney Vigilance  Gurpreet Singh Grewal, while explaining the working of Vigilance said that the Vigilance Department on complaints from certain reliable source lay a trap in order to nab corrupt public servants red-handedly, who demand or accept a bribe or take undue advantage by misusing official position. 

Meanwhile, the Webinar was also attended by Dr Ravinder Singh Sidhu (Orthopedic Surgeon), Amarinder Singh (Industrialist), Sonu Nilibar (Businessman), Baljinder Singh Er (Principal ITI, Ludhiana) and Maleshwar Rao Chief Manager Union Bank of India.