Venus Remedies voluntarily conducting 'Sterloc Safe Disinfection' of Covid-19 vaccination centres to aid Nation's push for mass vaccination
Using Sterloc, its totally organic, chemical-free and safe disinfectant, Venus Remedies today 'Safely Disin-fected' three 'Covid-19 Vaccination Centres' across Zirakpur to reaffirm its credentials of being a socially-responsible firm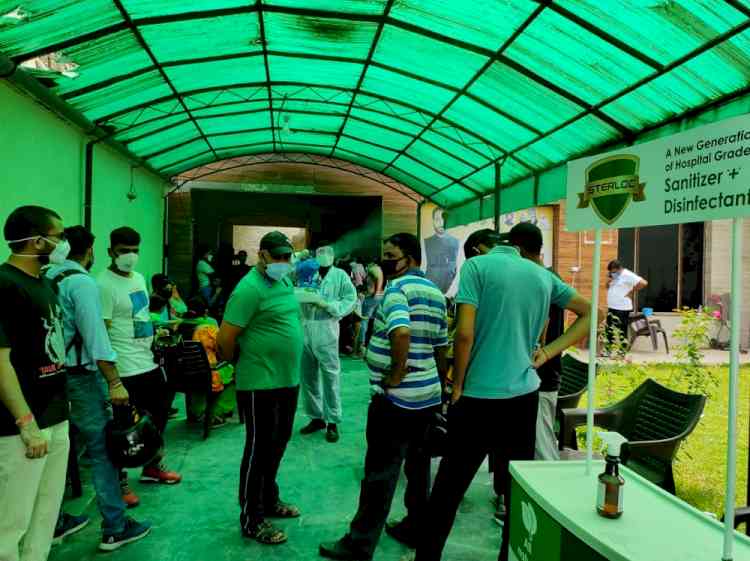 Zirakpur: Venus Remedies, a region-based leading research-driven pharma firm, today conducted voluntary "Safe Disinfection" of three Covid-19 Vaccination Centres across Zirakpur in a bid to boost the nation's push for mass vaccination. In this regard, Venus safely disinfected these centres with its organic, chemical-free and totally safe disinfectant Sterloc, which is an ideal disinfectant for large scale public disinfection.
Venus Remedies, is conducting voluntary "Safe Disinfection" of Covid-19 Vaccination Centres in the tricity to ensure more people feel safe while coming for vaccination, thereby helping boost the footfall. Another aim of this "Safe Disinfection" drive is to ensure that these vaccination centres, which are subject to mass exposure day after day, do not become source of Covid-19 spread.
Disinfection of public places, surfaces etc. has been recommended by WHO to kill coronavirus, thereby helping control its spread. Moreover, with the virus being air-borne, misting and fogging of air with disinfectants is also required to a larger extent. Sterloc by Venus Remedies is based on Hypochlorous Acid (HOCl), a powerful oxidizing agent that can kill 99.99 per cent of viruses and other pathogens in just 15 seconds while being non-toxic, all-natural and completely safe for human use. 
A disinfectant recommended by the US Environmental Protection Agency (EPA), Centre for Disease Control and Prevention (CDC) and the WHO against emerging pathogens and SARS-CoV-2, specialised HOCl-based disinfectants in the form of spray can even be used for fumigation as well as sterilisation of hospitals and quarantine facilities. This makes Sterloc by Venus Remedies the ideal disinfectant for disinfecting the Covid-19 Vaccination Centres.