Vascon Engineers partner with college of engineering Pune
Plans to set-up R&D centre and prorate the latest in the construction industry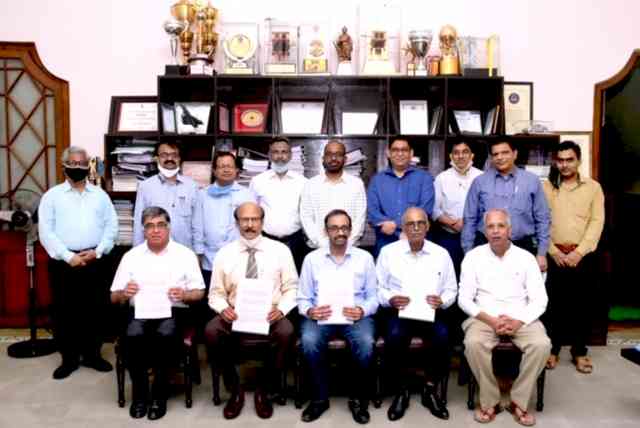 Dr. B B Ahuja, Director COEP / PadmaShri Pratap Pawar - Chairman & MD Sakal group / Siddharth Vasudevan - MD, Vascon / R Vasudevan - Chairman, Vascon / & / Subash Deshpande - Past president of Alumini COEP.
Pune:  Vascon Engineers, one of Pune's leading real estate players in association with one of Pune's premier institutes, College of Engineering Pune (COEP), have collaborated for setting up a Research and Development Centre to provide future engineers with the latest knowledge required in the field of construction.
The proposed R Vasudevan Centre of R&D, housed in the Vascon Civil Engineering Building, shall aim to bridge the gap between what civil engineers' study in classroom academics and the kind of expertise that is actually required in the real-world, in turn reducing gestation periods of professionals entering the industry.  

The Vascon-COEP association is the need of the hour, as  the recent report by the Royal Institution of Chartered Surveyors shows that there is a demand-supply gap ranging between 82% and 86% of skilled civil engineers, architects and others. This means our country needs 4 million skilled civil engineers until next year.
 
Such understanding between a leading private player and an institute of repute will help companies save on the cost of training manpower as the graduates are deployment-ready.

The latest industry know-how shall be imparted by top practitioners in the field of construction and academia, carefully selected by the management of Vascon and COEP. The centre shall provide such training on the basis of various live projects keeping in mind each project's final objective and shall be supervised directly by the head of the centre to successfully meet these objectives. One of the main objectives is also to work on innovative yet practical solutions to benefit the industry at large. The Centre will also focus on promoting training the latest technologies and equipment needed by the industry.
All students of COEP in the civil engineering department shall be eligible to work on such projects.
Speaking on the occasion, Mr. Siddharth Vasudevan - Managing Director, Vascon Engineers Ltd said, "We, at Vascon are proud to be associated with a premier institute like COEP and the bright minds associated with it. Infrastructure and Construction is a crucial sector for the Indian economy. Over the years, we have witnessed that transformational changes are built on the foundation of innovation and academic linkages. Our partnership with COEP and setting up of the R Vasudevan Centre of R&D aims to provide a robust platform for academia and industry to interact, and innovate and co-create newer technologies for the construction industry. As we all know professionals, across sectors, who join the industry fresh out of colleges require additional exposure and training to become industry ready. Hence, one of the main objectives of R&D Centre is to reduce this gestation period and equip students with the latest and industry ready knowledge that they will be able to use as soon as they are out of college."  
 
Dr. B B Ahuja, Director, College of Engineering Pune said, "We are pleased to be associated with one of Pune's leading real estate players, setting up of the R Vasudevan Centre of R&D is a one of kind partnership to equip our students to be industry ready and have an edge over others. We are focused on creating an industry-relevant curriculum in a fast-evolving ecosystem, this partnership with Vascon is a significant step in this direction.".