Vaccination resumes at Fortis Hospital from today onwards
First batch of 7,000 Covishield vaccines reach hospital today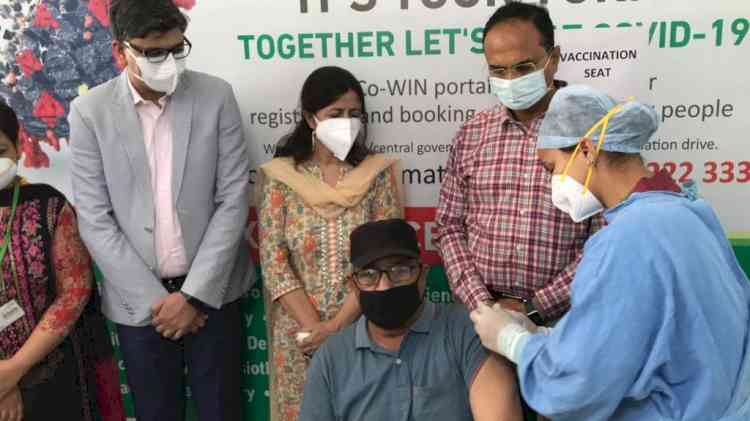 Ludhiana: In a good news for the residents of district Ludhiana, the Covid19 vaccination has resumed at Fortis Hospital Ludhiana in the district from today onwards. The first batch of 7,000 covishield doses directly from the Serum Institute of India have reached the premises of Fortis hospital, while second batch of 1.12 lakh doses would reach 6 private hospitals on May 28, 2021.
While inaugurating the vaccination drive at the Fortis hospital, Deputy Commissioner Varinder Kumar Sharma and ADC (D) Sandeep Kumar today urged the residents to get vaccinated in large numbers so that we can weed out Covid19 completely.
He informed that on May 28, 2021, 50,000 doses would reach Dayanand Medical College & Hospital, 25,000 at SPS Hospital, 10,000 at Fortis Hospital, 10,000 more at Mohan Dai Oswal Hospital, 15,000 at Deep Hospital and 2,000 at Verma Multispeciality hospital. He said that in these private hospitals, the residents can get themselves vaccinated by paying a nominal charge, whereas its totally free in government facilities.
He informed that at Fortis Hospital, each vaccine is priced at Rs 850, whereas it might vary for other hospitals.
He informed that these private hospitals have sourced this vaccine directly from the Serum Institute of India at their own cost. He urged all private hospitals to source this vaccine and if any hospital is interested to book vaccine doses, they can contact Sandeep Kumar, ADC Development Ludhiana.
He informed that even city based industry has also booked the Covid vaccine worth more than Rs 1 crore from Serum Institute of India through the District Administration Ludhiana. He informed that this vaccine would also reach the district soon, after which special camps would be organised in their premises where their workforce would be vaccinated.
Prominent among those present on the occasion included Civil Surgeon Dr Kiran Ahluwalia Gill, Dr. Vishavdeep Goyal- Director, AP Singh- Admin head, Dr. Shelly- MS, Dr. Sanjeev Mahajan, Dr. HS Pannu, Dr. Rajoo Singh Chhina, besides several others.