USA's leading Company 'Highgate' selected LPU's Hospitality Student on Package of Rs 32 Lakh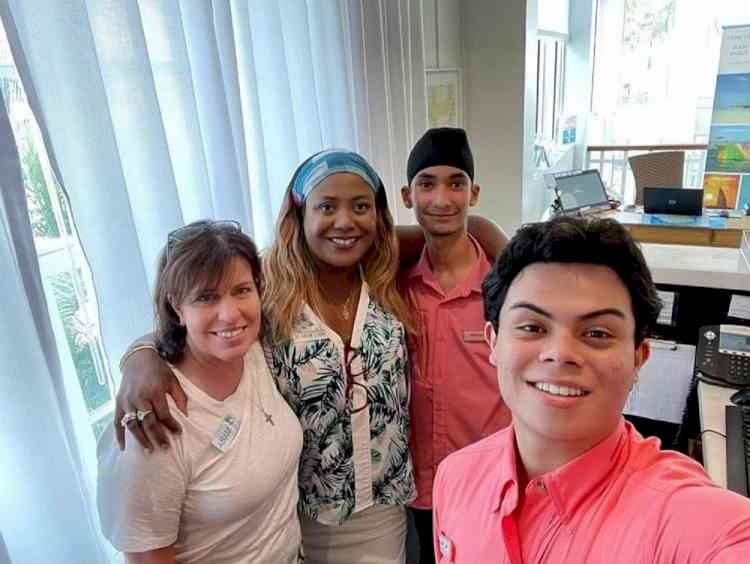 Immensely cheerful LPU student Parmeet Singh present along with his colleagues in Florida, USA.
Jalandhar, September 27, 2021: BSc (Airlines, Tourism & Hospitality) student, Parmeet Singh Lamba of Lovely Professional University (LPU) has been selected by USA's leading hospitality investment and management company 'Highgate' with a CTC of Rs 32 Lakh Per Annum. Parmeet has utilized LPU's unique placement network to begin an illustrious career in the very initial stepping into the corporate world. He is presently working in Florida, USA. Prior to this, an engineering student of LPU has also got package of 42 lakh rupees.
 
Operating 160+ hotels and resorts, and nearly 50,000 rooms worldwide; Highgate has received global recognition for its hospitality-forward thinking, contemporary programming and digital innovation. It is the dominant hotel player in key gateway markets, such as New York, San Francisco, Boston, Miami and more. It is a fully-integrated real estate investment and hospitality management company, and maintains corporate offices in top cities of the world.
 
Congratulating the hardworking student for the opportunity gained in early twenties, LPU Chancellor Mr Ashok Mittal holds: "We are proud of all our students like Parmeet, who pursue their programmes with dedication to make a place for them in this competitive world. I wish Parmeet to go a long way to earn more recognition in the years to come, as the hospitality sector has experienced continued growth and diversification to become one of the fastest growing economic sectors in the world. This growth has led to the creation of huge opportunities for students like Parmeet."
 
In fact, LPU's School of Hotel Management grooms students through industry endorsed curriculum and service oriented hands-on.  This all is through industrious faculty with industry exposure, in an excellent infrastructure.
 
Hailing from Chhindwara (Madhya Pradesh), immensely happy Parmeet shares: "It is an honour to join 'Highgate', where I am going to imbibe the illustrious legacy established by its pioneers. "Thinking big" as taught by my alma-mater, I look forward to learning a lot from this hospitality powerhouse." Parmeet's parents- Satya Pal Singh and Jasvinder Kaur Lamba telephonically conveyed their gratitude to Parmeet's mentors and LPU in his upbringing at the campus with all-round abilities, including 9.55 CGPA throughout, and hardworking approach. Parmeet had also availed LPU Scholarship during his studies.