Upcoming musical prodigy Harpi Gill's Suit Sandal featuring Manjul Khattar set to break the internet today
Produced and promoted by White Hill Music, the song to go live on White Hill Music's YouTube Channel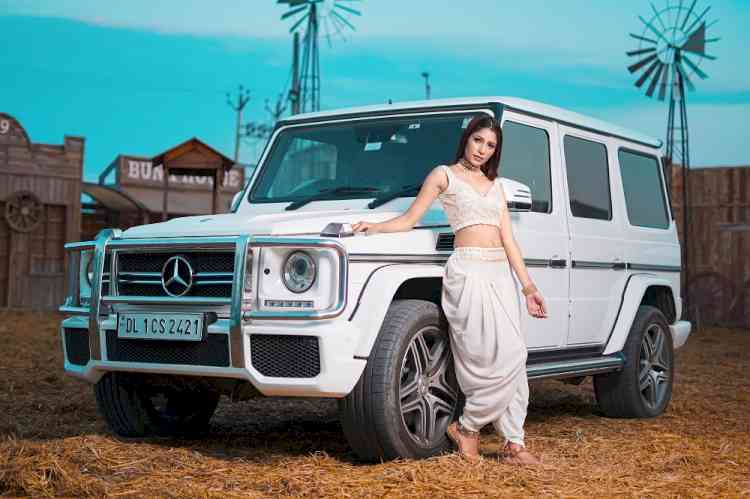 Harpi Gill.
Latest addition to White Hill Music's pool of talent and singer par excellence – Harpi Gill, is set to break the internet with the launch of her second track 'Suit Sandal', releasing today on their YouTube Channel. With the smashing success of her first song with the production house- Lethal Jatti, Harpi mesmerized audiences with her powerful voice and awe-inspiring screen presence by garnering 44 million views within just 4 months. 
Inspired by the innocent conversation between couples coming from varied backgrounds and a modern take on relationship dynamics - lyricist Moody & Akkhar sought to make Suit Sandal a song of this generation and one that strung at the heartbeat of every person who has ever been in love.  Bringing the music composed by Anky to life, social media star Manjul Khattar is seen romancing Harpi in the beautifully conceptualized music video shot in the city of dreams - Mumbai. 
Commenting on her experience working on this song, Harpi Gill said, "It has been an exciting two-year journey with White Hill Studios and Suit Sandal is a very close to my heart since I never thought we would launch the song amidst a pandemic. I was overwhelmed by the response I received for Lethal Jatti and I am extremely excited for audiences to experience Suit Sandal. The journey of creating this song has been one of personal growth and gratitude. Coming from a humble background, I have been fortunate enough that my family has been extremely supportive of my decision to pursue music and I hope that I am able to make my parents proud and set a good example for my sister while paving a path for her future. I am thankful to all the people that enjoy my music and show me so much love. I sincerely hope that you all enjoy listening to Suit Sandal as much as we've enjoyed making it for you." 
Adding to this, Managing Directors, Gunbir Singh Sidhu & Manmord Sidhu of White Hill Music said, "Harpi is amongst our most promising talents and I have full faith in her abilities to make it big in the industry – She is already a star from where I see it. Our motive has always been to identify talent and give artists a platform to perform their best. Suit Sandal is the second leap of faith that we've taken with Harpi as our in-house artist and we are very excited to see how audiences respond to our rendition of a modern-day love story. We are grateful for the love we have received so far and we promise to continue bringing forth such gems of talent." 
Suit Sandal will be live on White Hill Music's Youtube Channel on 11th June 2020.