Universal connectivity, digitalization and resilient digital economy to be core priorities at India's G20 Presidency
Telecom industry to grow by $12.5 bn every 3 years on 5G, related innovations ~ CII-Deloitte Report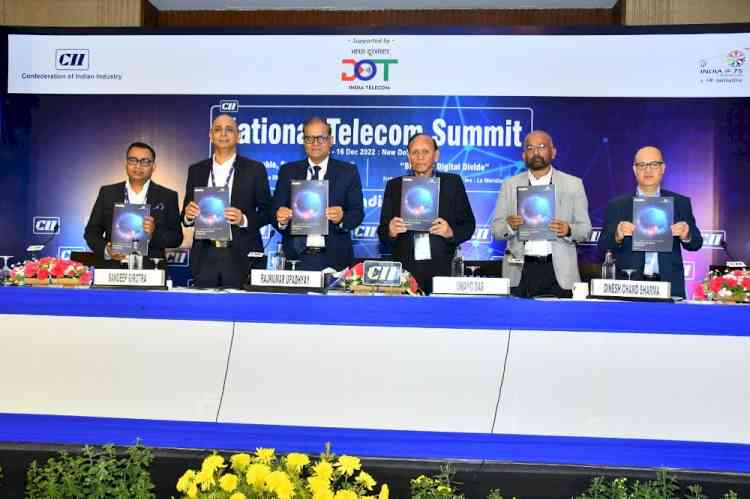 Launch of the CII-Deloitte report


The Indian Telecom market is all set to become the hub of digital transformation with all tech-driven growth in sectors like Healthcare, Fintech, Education, E-commerce, Manufacturing, etc., fuelled by telecom technology. "5G will be the backbone for the transformation of the economy," said  Rajesh K Pathak, Secretary, Technology Development Board, Government of India at the 10th Telecom Convergence Summit organised by CII today.
 
He also shared, "The Technology Development Board would be playing a pivotal role in handholding stakeholders across the sectors. Better connectivity would help to ride and drive rapid digital payment across the length and breadth of the country where innovative public-private partnerships and technology would help to improve citizens' lives and governance."
The approval of the Production Linked Incentive (PLI) schemes is expected to improve investor sentiment, attract more investment into India, stimulate innovation and R&D (research and development) and reduce the significant imports of telecom equipment.
 
Launched during the event, a report by CII-Deloitte titled '5G – Enable, Elevate, and Emerge: Digitalising us to Infinity and Beyond' projects that the Indian telecom industry will grow by USD 12.5 billion every three years on the back of the 5G services rollout and resulting innovations. 5G will boost monthly average data use per subscriber to 45.61 GB by 2027. Currently, it is estimated that Indian users consume 17.94 GB of data per subscriber per month.
 
The past decade has seen major changes in internet consumption and usage patterns governed by the rapidly changing needs of the varied segments of Indian society. Technologies like 5G and Satellite communication can open even more promising revenue streams for telco operators. Apart from commercial benefits, 5G can also work as a growth propeller for Industry 4.0 by facilitating the use of information and communication technology (ICT) across sectors like manufacturing, education, healthcare, agriculture, finance and others.
 
In his address, Rajkumar Upadhyay, CEO, C-DoT, said that Technology would be 4th factor of Production like land labour and Capital. The Government of India has taken rapid action on rolling out 5 in India. He also said that 5G will be a paradigm shift in the telecom sector and will make India self-reliant in the telecom world.
 
 
In his welcome remarks, Umang Das, Conference Chairman mentioned that 5G would be driving global growth making a resilient Indian economy. "Universal connectivity, digitalization and a resilient digital economy will be core priorities at India's G20 presidency," added Das.
 
 
Speaking at the Inaugural session, Sandeep Girotra, CEO, ATC India said that capital efficiency is key for 5G infrastructure.  He also said that 5G is bringing huge excitement across the ecosystems. 5G is a great opportunity for India to showcase its potential in the digital economy.
 
Dinesh Chand Sharma, Director, EU Project, SESEI in his address mentioned standardization in creating a global business environment and challenges faced by Indian businesses in a global setting to be of utmost importance. "It is beneficial if they seek to enter and compete in a market which demands a set of quality parameters which is different from other markets", said Sharma.
 
Introducing the theme of the conference, Peeyush Vaish, Partner and Telecom Sector Leader, Deloitte India said, "As a nation, we are poised to lead the game of 5G penetration and development over the next 3 years due to scale, high population density, along with its reliable phase-wise rollout. With the right mindset and technological prowess, the Indian Telecommunication Industry can use 5G to accelerate economic growth and resilience in the country, bringing avenues of collaboration across crucial sectors."
 
The conference aimed to highlight the major technologies and digital transformations in the telecom sector and to discuss the various aspects and Industry lens of how 5G is critical to India's digital ambition.