Unique Rajasthani folk ensemble `Beliya' Showcased
Latif Khan who is leading the Manganiar artiste says it is a privilege for them to present their art form in front of audiences in the Chandigarh region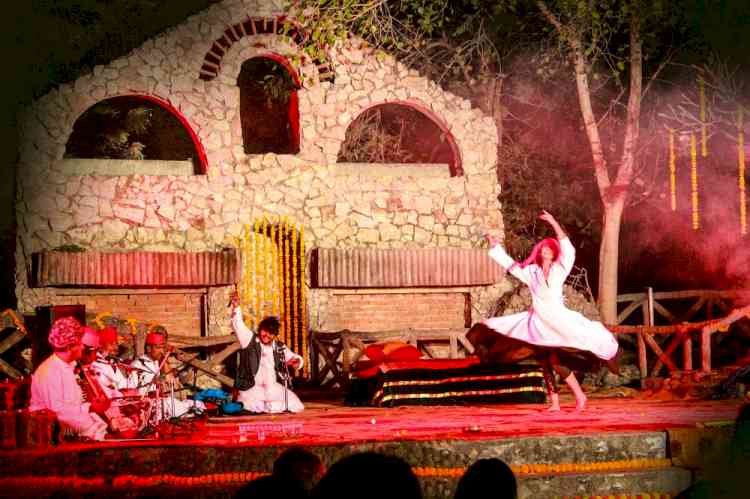 'Beliya', an artistic performance was held in tricity in which the famous 'Manganiar' folk singers from Rajasthan gave a scintillating display of their skills.
Chandigarh: A city based theatre group 'The Narrators Performing Arts Society' organised a unique Rajasthani folk ensemble 'Beliya' in the tricity. Ushering in the beauty of spring, The Narrators presented 6 'Manganiar' folk artists from Western Rajasthan (Thar Desert area) who enlivened the evening with their spellbinding Rajasthani folk songs and instrumental Jugalbandi, as a backdrop in a dance, musical & poetic rendition showcasing the journey of a woman. Nisha Luthra, Founder of The Narrators had curated and directed the act 'Beliya' , while the dance  was staged by Puneet Jewandah who presented a fusion of kathak and New York style dancing. 
Dr. Sumita Mishra,  Senior Advisor, Economic Council to Prime Minister of India was the Chief Guest  while Dolly Guleria a renowned Punjabi Folk Artist and Lord Daljit Singh Rana(OBE) were the Guests' of Honor.
 
Sharing the details of the event, Nisha Luthra, the Founder & President of 'The Narrator's Performing Arts Society' said, "'Beliya' is inspired by the rich heritage of the cultural capital of India - Rajasthan. In this show, we tried to depict different  stages of a woman falling in love.  'Shringaar Rasa' was portrayed and this rasa unfolded a myriad of her emotions including jealousy, fear, anger, abhilasha ( longing), compassion, passion and the expression of physical intimacy."
Notably, this art form of storytelling which was presented in tricity , is inspired by a 700 years old ancient art form from Rajasthan called 'Phad' which used to be a fine blending of painting, singing, and narration of mystical tales. 'Phads' were the big canvases which storytellers would use as their pictorial depiction tool, with singing and dancing being integral part of this narration.
Latif Khan who is leading the Manganiar artiste said, "It is a privilege for us to present our art form in front of audiences in the Chandigarh region. This will help in spreading awareness about the ancient & rich Manganiar's folk singing that we propagate, despite modern music having made major in-roads into India's music arena. Such encouragements would certainly help conserve our centuries old traditions."
Nisha further said, "The main aim of organizing the event was to make the audience familiar with a less discovered art form of Rajasthan. The musical evening was the perfect amalgamation of music, poetry, and tales, which transported the audience into another parallel reality. We hope that the audience has experienced the true essence of their own consciousness which  reflects on spiritual, personal, and moral aspects along with enjoying the divine folk music of Rajasthan in the background."