UILS organizes one day national online seminar on Food Security in India: Issues and Challenges 
The seminar successfully concluded with participants expressing sincere praise for the seamless shift to digital technology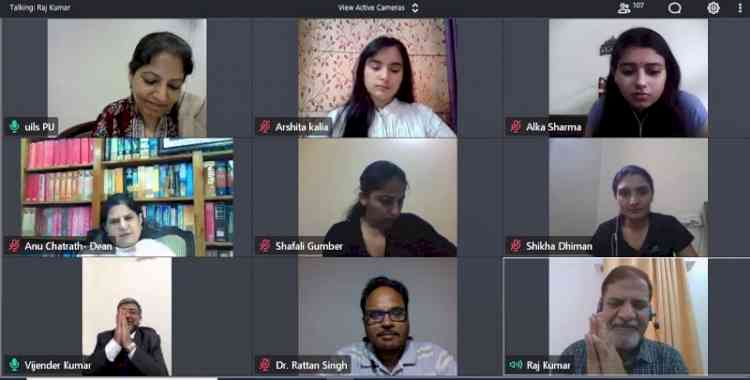 Chandigarh: University Institute of Legal Studies, Panjab University, Chandigarh organised a One Day National Webinar on "Food Security in India: Issues and Challenges" on 20 June, 2020. The Seminar was attended by eminent academicians, faculty members, paper presenters and participants from all over India. 
During its inaugural session, Vice Chancellor, Prof. Raj Kumar highlighted the issues of unemployment and the need of diverting and motivating the youth in the areas of agricultural and industrial start-ups. Prof. Vijender Kumar, Vice Chancellor, NLU, Nagpur addressed the online gathering and drew their attention to the availability, accessibility, quality, quantity, procurement and other aspects of food in India. While motivating and encouraging the students, he pointed out that the scholars should conduct empirical research in different aspects of food security. 
Prof. Rajinder Kaur, Director, UILS welcomed the online guests and participants and Ms. Anu Chatrath, Dean, Faculty of Laws, spoke on current challenges as well as governmental handling of issues of food security. Prof. Rattan Singh, Former Director, UILS, spotlighted the agricultural crisis, marketing challenges and human capital as major concerns in the arena of food security. Prof. Gulshan Kumar presented a formal vote of thanks. This online seminar was organised by a team consisting of Prof. Navneet Arora, Dr. Virender Negi, Dr. Abha, Mr. Harvinder, Ms. Shafali and students
The seminar covered legal, social, political and economic aspects of food security and there were 8 technical sessions that went on simultaneously. There were nearly 100 papers presented and this valuable academic exercise has drawn attention to many facets of the current food crisis in India. The Inaugural session was attended by 130participants who joined it online through the GoToMeeting app. More than 100 presenters from different universities and institutes all over the country, viz Tamil Nadu, UP, Kerala, J&K, Uttarakhand, Rajasthan, Himachal Pradesh, Haryana, Punjab presented papers. All these papers were divided and presented in 8 parallel technical sessions - 4 in the morning and 4 in the evening. 19 senior Professors were cordially invited to chair the different technical sessions for the Seminar. The seminar successfully concluded with participants expressing sincere praise for the seamless shift to digital technology and the fruitfulness and enlightening discussions.