UIFT hosts Shastri Indo Canadian Lecture Series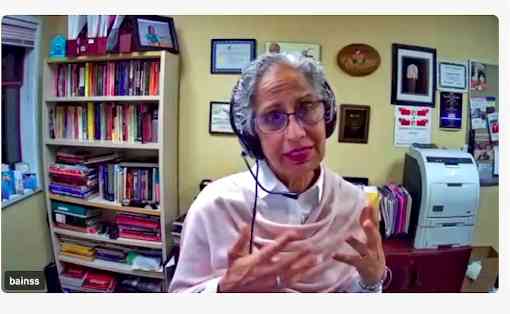 Chandigarh, March 10, 2022: UIFT today hosted the first online lecture of Shastri Indo Canadian Lecture Series "Taking traditions forward: Preserving and conserving culture and heritage in the South Asian Canadian Diaspora" in collaboration with South Asian Studies Institute, University of the Fraser valley, Canada funded by Shastri Indo Canadian Institute, New Delhi.
Dr Anu H. Gupta, Chairperson, UIFT & VD, Panjab University along with Dr. Satwinder Kaur Bains from The University of the Fraser Valley with has been  awarded with a Shastri Indo Canadian Lecture Series Grant by Shastri Indo Canadian Institute, New Delhi this year. Around 125 participants participated in today's event. Dr. Rita Kant, senior faculty at UIFT & VD, welcomed the event's participants, guests, and resource person.
 
Dr. Anu H. Gupta introduced the lecture series to the audience. She stated that Indian culture is a blend and synthesis of continuous multicultural invasions, much resulting in ethnic diversity, intense diglossia and out migration by its citizens. On the contrary, as a result of ongoing migrations, Canadian culture is layered with diverse populaces. Canada serves as home for people of diverse ethnic backgrounds from across India. Global interactions and exchanges beyond the boundaries of cultural groups, has influenced the concept of preserving and continuing heritage and traditions and have introduced new artistic ideas. The lecture series tend to explore the exchange and impact of tradition heritage and culture of India and Canada through a rich history, artefacts, crafts, textiles, museums, monuments, scriptures and text, performing and visual arts, music, cuisine etc.
 
Prof. Ramanjit Kaur Johal, Department of Public Administration, Panjab University, Chandigarh and Member-at-Large, Executive Council, Shastri Indo-Canadian Institute gave her inaugural remarks. She congratulated the department for organising such prestigious lecture series. She emphasised the importance of SICI in encouraging research projects, collaborations, and conferences between India and Canada.
 
Dr. Satwinder Kaur Bains, Senior Associate; Director: SASI; University Advisor: Canada-India Relations Social, Cultural, & Media Studies, University of the Fraser Valley, Canada was the resource person for the first lecture. She spoke on "Heritage as new knowledge in the South Asian Canadian Diaspora" . She discussed heritage-isation, which she described as a Western idea. She emphasised Partnership as a heritage-isation strategy. She brought the audience back in time, using photos from the early 1900s to demonstrate the evolution of multi-culturism. In the early 1900s, Punjabi migrants to Canada were obliged to adapt western clothing (blend in to avoid racism), and over time, Punjabis got the freedom to revert to their traditional attire. She elaborated the project - Punjabi Canadian Legacy – in which five regions in British Columbia with strong Punjabi Canadian ancestry were targeted in order to document Punjabi heritage and tradition. The goal was to establish a ladder in order to conserve Indian tradition, to continue to grow knowledge, and to develop a community outreach plan. She further said that this effort has shown that both intangible and material history are essential to everyone. Personal and active involvement with the Punjabi Canadian and related communities happened, as did the creation of a space for self-expression.
 
The resource person was able to emotionally connect with the participants through her lecture, which was followed by a discussion session in which participants enthusiastically participated and raised many questions such as how Punjabis are sustaining their culture in Canada, the difference in concept and importance of heritage for different generations of Punjabis in Canada, and so on. There were discussions about the research areas that can be worked together. Dr Prabhdip Brar, senior faculty, UIFT & VD thanked the participants for making this event a success.