Training program and competition improve productivity with quick changeover (SMED)
More than 40 participants attended the training program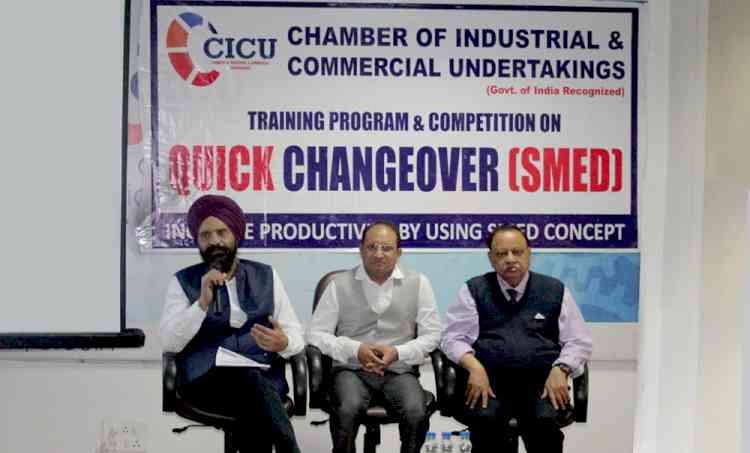 Ludhiana: CICU has been organizing various programs for the benefit of the industry and trade sectors of Punjab. Skill Up-gradation of the Industrial employees/workers is one of the key agenda under the "Make in India" and "Atmanirbhar Bharat" initiatives by the Government & facilitated by Chamber of Industrial & Commercial Undertakings. CICU has recognized its responsibility in thisregards and organized a Training Program and Competition on Quick Changeover (SMED) at CICU Complex, Focal Point Ludhiana.
 
Upkar Singh Ahuja, President CICU in his welcome address said that there is a dire need for the up-gradation of the industry in terms of skills especially in Micro, Small & Medium Enterprises for Global Competition, learning latest and innovative skills has become very important and skill development plays a vital role in its up-gradation. There is a direct co-relation between skill up-gradation of employees and performance of the SMEs. He further said the Quick Changeover (SMED) has a very effective tool for increasing productivity by significantly reducing the set up time from hours to less than 10 minutes. SMED system also helps to convert many changeover steps as possible to external and performed while equipment is running. It also simplify and stream lines the remaining steps. It has proved its effectiveness in many companies. The objective of the competition is to help companies witness successful practices and case studies in adopting Quick Changeover Methodology.
 
The interactive and thought provoking program was conducted by R.S. Solanki, who is Executive MBA, B.Tech., Industrial Engineering Specialization in Total Quality Management, BE in Mechanical Engg., Lean 6 Sigma Black Belt, Lead Auditor ISO 9001:2008 with 28+ years of rich experience in training & consultancy to the reputed companies. He enlightened the participant with the different categories of set up activities, basic concept of changeover and SMED, flow process of changeover activities, steps to reduce set up time and activities with examples and case studies of successful implementation of SMED.
 
In the Competition session, the three companies i.e. New Swan Enterprises Unit - VI, Kangaro Tools and New Swan Auto Comp. Pvt. Ltd. participated and presented their PPTs on quick Changeover (SMED) process. The jury consisting of three experts namely Gautam Malhotra - Consultant, R.S. Solanki - Senior Trainer & Consultant evaluated the presented PPTs for practical work done in terms of reduction of changeover time and increase in production viz-a-viz financial and technical benefits achieved with the SMED practices. The winners i.e. New Swan Enterprises Unit - VI and Kangaro Tools were awarded Gold awards in two different categories for best presentations. New Swan Auto Comp. Pvt. Ltd. was awarded silver award for second position. The competition session was highly useful for practical skills learning by participants through the best practices on SMED concept.
 
Pankaj Sharma, General Secretary, CICU in his concluding remarks said that due to globalization of the Indian economy, MSME Sector is facing new challenges. This program will make valuable contribution for increasing production and quality as well as cost reduction to compete globally. He was hopeful that knowledge shared in this program, if implemented practically and effectively by the participants will definitely benefits the industry.
 
More than 40 participants including of Senior Managers, Managers, Assistant Managers and Engineers working at Assembly lines, Machines, Equipment's, Tooling and Maintenance Departments, Designers, Tool Makers, Project Developers, Unit Heads attended this program and highly appreciated by the participants.