Training of doctors for new MBBS curriculum starts in CMC
Sessions in program conducted by faculty and experts in medical education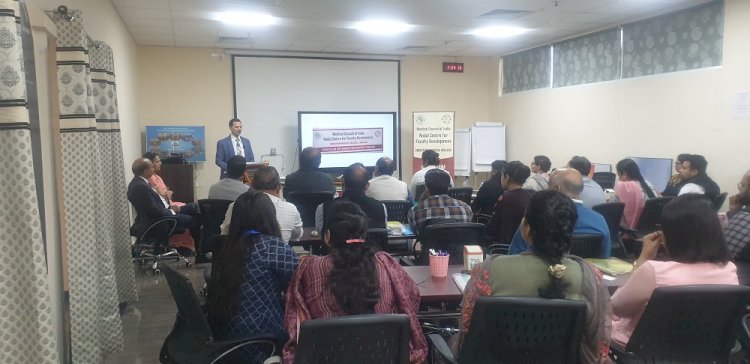 Ludhiana: Medical Council of India (MCI), Nodal centre for faculty development at CMC, Ludhiana has started 2nd phase of Curriculum implementation support program (CISP) for training doctors teaching in medical colleges as part of National Faculty Development program. 
The 2 days program stared today. Dr. William Bhatti, Director, CMC welcome the participants and emphasized the role of new curriculum as per changing needs of the society. Dr. Jeyaraj D. Pandian, Principal, CMC intimated that Department of Medical Education CMC at MCI Nodal centre is leading the change in the northern part of India in training the faculty of medical colleges. Dr. Dinesh Badyal, Professor & Convener of MCI Nodal centre  introduced the theme of the CISP mentioning that the second phase of training has started in India in February 2020 for all medical colleges through 22 centres of MCI.  Dr. Badyal added that the Nodal centre, CMC has trained teachers from medical colleges from allocated medical colleges in  first phase in 2019. The second phase will mandatorily train faculty in the second professional years along with faculty from other professional years of MBBS. He added that new MBBS curriculum has been implemented in India from 2019 admission batch. CMC is conducting series of training program to train faculty from 26 allocated medical colleges of Punjab, J &K, West Bengal and other states. The allocated medical colleges will also conduct same training program in their institutes under observation of MCI Nodal centre, CMC, Ludhiana.  
Dr. Anjali Jain co-convener and Incharge CISP informed that 30 participants are undergoing a focused, interactive  and hands on training on various components of new curriculum in each program. The programs are being conducted in state-of-the-art Department of Medical Education (DOME), Christian Medical College, Ludhiana having all facilities for the trainings. The second phase of CISP has new sessions as compared to 2019 program including student-doctor method of teaching, skills training, graduate medical regulations amendment 2019, changes in university examinations and internal assessment, logbook records and maintenance of records of performance of MBBS students. Each batch is being taught on clinical material including early clinical exposures. There are integrated teaching blocks where faculty from basic, paraclinical and clinical subjects integrate the concepts e.g. anemia topic will be conducted by faculty from all subjects in each year. The MBBS graduate going through new curriculum will be called Indian Medical Graduates (IMG) after completing the course. 
The sessions in the program were conducted by faculty and experts in medical education including Dr. Dinesh Badyal, Dr. Anjali Jain, Dr. Monika Sharma, Dr. Bharti Uppal, Dr. Sheena Singh, Dr. Roma Issac, Dr. Aroma Oberoi, Dr. Shavinder Singh, Dr. Pamela Alice, Dr. Gagandeep Kwatra, Dr Maria Thomas, Dr. Deepshikha Kamra, Dr. Suchitra Deolalikar,  Dr. Clarence, Dr. Parvez D Haque and Dr. Ajay Kumar.