Traders organisations under banner of PPBM hold protest
Beat drums to get awake the Amarinder government towards their demands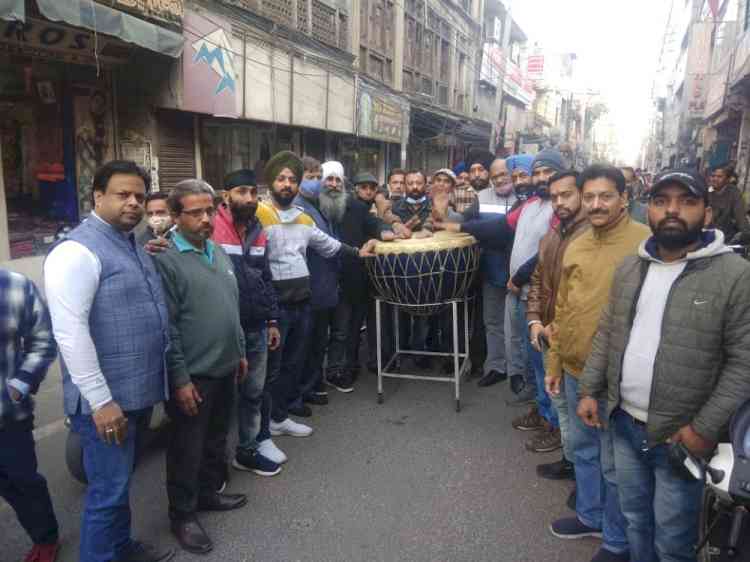 Ludhiana: Traders organisations under the banner of Punjab Pradesh Beopar Mandal (PPBM) held a protest against non-implementation of the one time settlement policy by the present Congress government in the state.
The protest was held today at Chowdi Sarak under the leadership of the PPBM chairman Pawan Lehar, state general secretary Sunil Mehra, Industry Cell BJP president Rakesh Kapoor and mandal president Baljit Singh. The protestors beat the drums to get awake the Amarinder government towards their demands.
 
Speaking on the occasion, Sunil Mehra regretted that even after holding four cabinet meetings the Amarinder government had been failing in implementing one time settlement policy. He added neither any notice has been issued by the government nor the government is showing any interest for the same. 
He also said that sales tax department is issuing huge VAT notices to the traders, which would not be tolerated at any cost. He regretted that traders are being harassed on one or another ground by the Amarinder government during these days of pandemic. He warned that the PPBM would take stern decisions in its meeting to be held after 10 days if nothing concrete is done in this regard. 
Pawan Lehar said that the hosiery traders are facing huge losses due to shortage of raw materials as transportation is getting affected because of the farmers' protest. He said the Amarinder government is failing in fulfilling its poll promises and the government is working as per the guidelines of the bureaucracy. 
The PPBM state secretary Mohinder Aggarwal demanded that the state government should hold a high-level inquiry against the officials allegedly involved into GST scams. He said some of the departmental officials are rendering huge losses to the government exchequer therefore adequate action must be taken against these officials. He demanded withdrawal of professional tax and fixed charges and exemption on power bills of traders in this time of pandemic. 
Among others, Amit Gupta, Rakesh Vohra, Baljit Singh, Rakesh Kapoor, Jagdish Malhotra, Sandeep Kumar, Manjit Singh, Ramesh Mahajan, Narjit Singh Shally, Gagandeep, Kulwant Singh Chawla chairman Dukhniwaran Market Association, Parminder Singh, Dileep Grover, Sanjiv Aggarwal and others were present.