Today's Update: Punjab State Senior Inter District T-20 Tournament
The big upset: Kapurthala beat Patiala by 7 wickets and got their ticket for the finals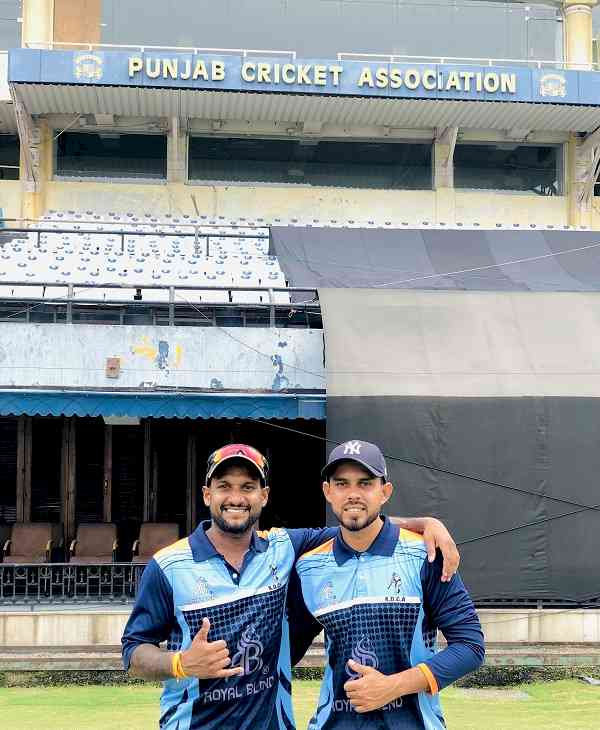 Krishan Alang and Himanshu Satyawan.
Mohali: The Semi-final of the Punjab State Senior Inter District Tournament for T-20 played between Patiala vs Kapurthala at PCA Stadium Mohali. Kapurthala beat Patiala by 7 wickets and were able to get their place in the final. Kapurthala won the toss and opted to bowl first. The match was reduced to 14 overs due to rain. Batting first Patiala scored 116 for 4 in 14 overs. Prabhsimran Singh 26 off 19 balls (2X4) (1X6), Jiwanjot Singh 29 off 17 balls (5X4) and Karan Kaila 20 off 15 balls (1X4)(1X6) were the highest run getters for Patiala.
Ujjwal 2 for 19 and Krishan Alang 1 for 15 were the main wicket takers for Kapurthala.
Kapurthala in reply got their way to the final and achieved the target off 116 runs in 13.2 overs. Bikramjit Singh 31 off 28 balls (3X4) (2X6), Krishan Alang 30*off 23 balls (2X6) and Himanshu Satyawan 23* off 13 balls (2X4) (1X6) were the main run getters for Kapurthala.
Karan Kaila, Mayank Markande and Ikjot Singh scalped one wicket each.
BRIEF SCORES:-
PATIALA                           116 FOR 4 IN 14 OVERS
JIWNAJOT SINGH             29 OFF 17 BALLS (5X4)
PRABHSIMRAN SINGH   26 OFF 19 BALLS (2X4)(1X6)
FOR KAPURTHALA
UJJWAL                                2 FOR 19
KAPURTHALA                  117 FOR 3
KRISHAN ALANG              30* OFF 23 BALLS (2X6)
HIMANSHU SATYWAN   23 OFF 13 BALLS (2X4) (1X6)
It was officially announced by Sh. Deepak Sharma, CEO, PCA.