To strengthen state unit, AAP swears in newly appointed circle presidents
Captain govt looting Punjab at the hands of all kinds of 'mafias': Harpal Singh Cheema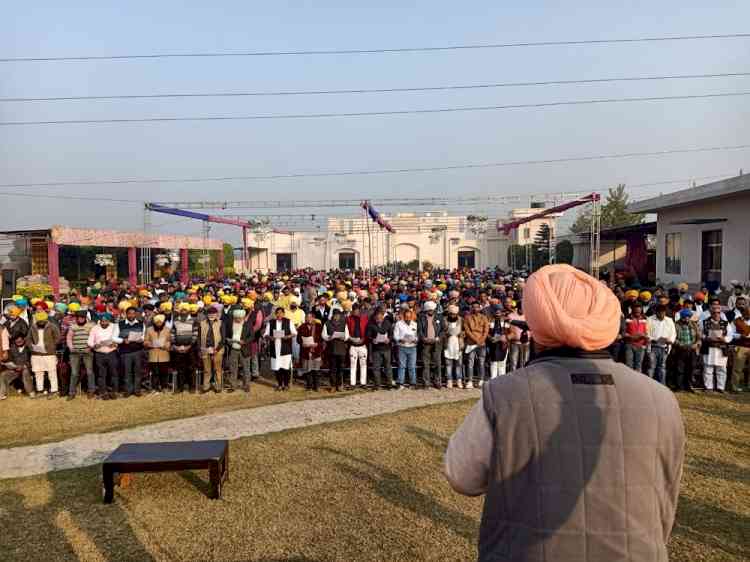 Ludhiana: The Aam Aadmi Party (AAP) Punjab is strengthening its organisation with an aim of building a better Punjab. A function was organised in this regard at Ludhiana on Tuesday, where Leader of Opposition in Punjab Vidhan Sabha Harpal Singh Cheema, deputy leader of opposition Sarabjit Kaur Manunke, MLA Kultar Singh Sandhwan, MLA Jagtar Singh Jagga Hissowal, State General Secretary Harchand Singh Barsat and State Joint Secretary Amandeep Singh Mohi handed over the responsibilities to the newly appointed office bearers. Before the commencement of the function, tributes were paid to the martyrs of farmers' movement who laid their lives in the battle for their survival.
Speaking on the occasion, Harpal Singh Cheema said that to strengthen the party, so far 22 state office bearers, 168 district level office bearers and 468 block level office bearers were appointed. Under this, more that 1000 newly appointed office bearers were sworn in here on Tuesday. He said that the party had appointed one circle president for five villages and wards and work would be done to strengthen the party by making about two lakh more persons join in the next two months.
Congratulating the newly appointed circle presidents, Sarabjit Kaur Manuke said that the party would be stronger with the hard work of the leaders. She said the future of Punjab was looking bleak due to the mistakes of the centre and Punjab government. "While today the Modi government at the centre wants to destroy farmers and agriculture, Captain Amarinder Singh, on the other hand is looting Punjab at the hands of all kinds of mafias," she added. Manuke further said that in such circumstances, the responsibility of the party increases to work for preventing the 'loot' and to build a better future for Punjab. "The sole objective of the Aam Aadmi Party is to mobilize Punjab, its culture and tradition, youth and all sections with making a colorful Punjab again, where there is prosperity, where farmers does not have to commit suicide due to debt and where the youth are given employment, not a beating by the police," said Manuke.
Addressing the gathering, Kultar Sandhwan said that before the elections Captain Amarinder Singh after swearing by the Sri Gutka Sahib, had promised to stop drug abuse, illicit liquor trade, transportation, door to door employment in Punjab among other promises, but now he has backed from the same and is harassing and beating those who are seeking jobs for the youth. He said that illicit drugs and liquor trade was mushrooming under the patronage of Capt Amarinder Singh and other Congress leaders in his district. On the occasion, Suresh Goyal, Master Hari Singh, Dupinder Singh, Rajan Malhotra, Gobind Kumar, Jeevan Singh Sangowal, Gurjeet Gill and Jagdish Saini were also present.