TiE Hyderabad to be the proud host of this global calendar event
TiE Sustainability Summit 2021(TSS-2021) the world's largest summit, where entrepreneurship meets sustainability will be held in October 2021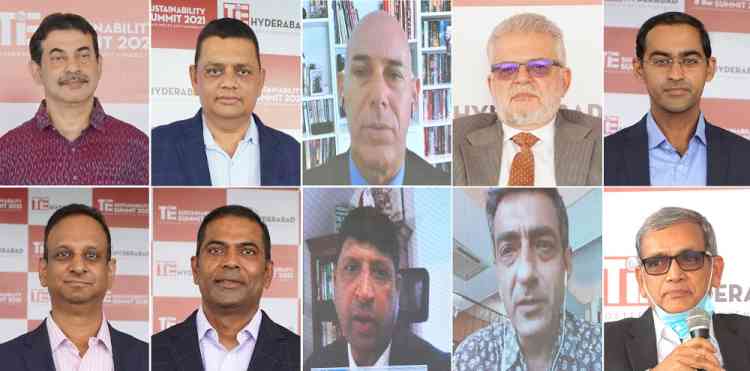 Jayesh Ranjan, Manohar Reddy, Ron Malka, H.E Dr. Claudio Ansorena, Ranvijay Lamba, Suresh Raju, Murali Bukkapatnam, Mahavir Sharma, Praveen Tailam, Kali Prasad.


Hyderabad: TiE Sustainability Summit 2021(TSS-2021), the world's largest summit, where entrepreneurship meets sustainability will be held in October 2021. The three-day Summit will be held from October 4 to 6. It will be hosted by TiE Hyderabad, which is yet another feather in the cap of TiE Hyderabad. The Chapter hosted last year the Global Summit, the world's largest entrepreneurial summit. And it was a huge success. 
                    
TiE (The Indus Entrepreneurs) Hyd Chapter is the most recognized chapter worldwide. It is the local unit of TiE Global, the largest non-profit organization devoted to entrepreneurs in all industries, at all stages, from incubation, throughout the entrepreneurial lifecycle
 
A press conference is called for to make a formal announcement of the launch of the summit and the team behind organizing it briefed the salient features of it. It was launched in the presence of Shri Jayesh Ranjan, Principal Secretary--IT & Industries, Govt of Telangana; H.E. Dr. Ron Malka, Ambassador of Israel; H.E. Mr. Claudio Ansorena, Ambassador of Costa Rica Mr. Sudipta Bhattacharya, CEO, Adani Group, North America 
 
Ms. Vered Mivtzari, Strategic Countries Director, Startup Nation Central(SNC) Israel; Mr. Praveen Tailam, Chair, TiE Global, Partner & Adviser, AR Dental , ; Mr. Dinesh Dhamija, Former MP EU & TiE Sustainability SIG Chair; Mr. Mahavir Sharma, Past President, TiE Global; Ms. Anat Bernstein-Reich, President, TiE Israel & Program Co-Chair, TiE-SNC Partnership Initiative were the special guests at the launch and shared more details 
 
Speaking on the occasion Mr. Jayesh Ranjan, Principal Secretary, Govt of Telangana said in fact the 17 Sustainable Development Goals are now universally accepted.  All countries have placed their support for the same. These 17 goals have to be implemented by 2030.  But there seems to be some risk.  Take advantage of the present circumstances some may use this as a pretext to defer their implementation which is not desirable.  This Summit will send a strong message that Entrepreneurship is equally committed to SDG. The Summit is very relevant and a topic, he said.
 
Speaking further he added that Neeti Ayog rates states on the basis Sustainability.  Telangana state is doing well and is ranked 6 and its scores are improving from 67 to 69 out of 100 compared to last year, he revealed.  Telangana is much ahead in meeting its 2030 deadline he shared.  He has highlighted housing for all, Women Self-Help groups, Ee-Hub among other initiatives the government has taken up to enshare rightful share in the workplace for the women. 
 
Mr. Jayesh opined that to achieve the desired results in implementing SDGs we need multi stakeholders participation.  He urged organizers and people associated with the implementation of SDGs to bring all the stakeholders on a single platform.
 
Sartups have a role to play in achieving SDG goals.  I am happy to note that the organizers have collaborated with Israel and Costa Rica, which are global role models.  Israel is the country where every person is an entrepreneur.  Entrepreneurship is in their genes. 
 
Speaking about TSS 2021 Manohar Reddy, Chair TSS 2021 & President, TiE Hyderabad said "With this TiE Sustainability Summit, Hyderabad could potentially become the destination for Startups in the Sustainability sector. We are excited about hosting this global event." 
 
"As a TiE Hyderabad initiative, we would like to create awareness and impact through this Sustainability Summit to address the three pillars of sustainability -- the economy, society, and the environment -- while fostering entrepreneurship" according to Suresh Raju, Co-Chair TSS 2021 & Vice President, TiE Hyderabad
 
Addressing the gathering virtually H.E. Dr Ron Malka, Ambassador of Israel said the only way to achieve the goals is through education to innovation to sustainability.  Israel has shown a path on how entrepreneurship has to be done.  We are very enthusiastic and looking forward to the summit, he added.
 
Solutions have to be global . All countries need to collaborate and share as this is the humanitarian cause.  He said Costa Rica is motivated to work with India and Israel.  We have set up some landmark achievements in this space.  We are the first carbon neutral country.  We have prohibited oil exploration.  Our Tourism is eco tourism.  Our beaches are the cleanest beaches.  Costa Rica is the leader in Sustainable Environmental Issues.  We are a small nation.  India is 55 times bigger than us.  But our shared values are common such as democracy, peace, sustainability, and the environment. We are proud partners for the summit and we will contribute as much as we can. 
 
One of the reasons why we chose Hyderabad Golf Course as a venue for the launch press conference is to show how sustainability is part of our day to day life, Jammikunta which is outside the Golconda Fort was a Municipal Garbage Dump for many decades, now is a beautiful golf course of international standard, promoting sustainability day in and day out.  The Golf Course is totally environment friendly—using treated sewage water (Bio-Remediation root zone sewerage treatment plant---no pesticides or chemicals are used) said Murali Bukkapatnam in his opening remarks.
 
Rigveda says a pond is equal to ten wells; a reservoir is equal ten ponds; 'a son is equal to ten reservoirs and a tree is equal to ten sons' –India has very conscious of sustainability from Vedic times, now it is important that we take the leadership role again, Murali Bukkapatnam added.
 
According to the organizing team comprise of Mr. Manohar Reddy, Conference Chair-TSS 2021, President, TiE Hyd; Mr. Suresh Raju, Conference Co-Chair-TSS 2021; VP TiE Hyd; Mr. Sridhar Pinnapureddy, Past President, TiE Hyd; Mr. Murali Bukkapatnam, Chair, Host Committee, TSS 2021; Mr. Ranvijay Lamba, Program Co-Chair, TiE-SNC Partnership Initiative who graced the launch, the TSS 2021 will attract 20,000+ entrepreneurs from 25+ countries, global thought leaders, influencers, policymakers, funders, and global investors. 
 
Distinguished Indian and World leaders will be addressing TSS 2021. Keynote sessions, technology lounge, investor lounge, matchmaking, one-on-one meetings are planned to add value to the 20,000+ start-ups and entrepreneurs, 200+ Investors, 10+ World leaders, 50+ star speakers, celebrities, eminent sports personalities, spiritual and wellness gurus will be attending the summit. A total of 25 TiE chapters from the Americas, Europe, Africa, India, and APAC will be represented at the summit
 
 The summit will provide an opportunity for entrepreneurs to network, share ideas and interact with investors, business leaders, and policymakers across the globe. 
 
The TiE Sustainability Summit 2021 (TSS2021) aims at creating awareness about the importance of integrating the Sustainable Development Goals with entrepreneurship. The pandemic has made us more aware of the need to orchestrate a sustainable recovery (from the pandemic) while delivering more ambitious commitments to protect nature and ensure a climate-safe future. It also aims at creating awareness about the Summit among the startup community and the ecosystem The focus areas will be Water, Energy, Agriculture and the role of technology in these areas. 
 
Another important focus of the TSS 2021 is to organize a global multi-stakeholder platform for governments, multilateral organizations, development banks, corporates, investors, funds, and start-ups to exchange solutions and resources towards collectively meeting the Sustainable Development Goals. 
 
This is a very important and need of the hour subject/issue. It will help participants to Accelerate Achieving SDG Goals, to Integrate SDG Goals into Entrepreneurship, to Network with ESG and Impact investors, to have firsthand Experiences of Global Thought Leaders, to Discuss and Discover Sustainability ideas and to Create a Community of Sustainability Practitioners
 
The focus of the Summit will be on Engaging Entrepreneurs, Policy Makers, Regulators, Governments and Non-Profits and Foundation.  
 
TiE Hyderabad is working towards partnering with TiE Israel and SNC (Startup Nation Central) to create a joint Mentorship program for 2 years (to launch 3 cohorts of each 8 months duration) for innovation and technology partnership among start-ups and penetrate the Indian market.