Third day of Covid Vaccination Drive went off successfully
Secretary of DMCH Managing Society also gets Covid Vaccination shot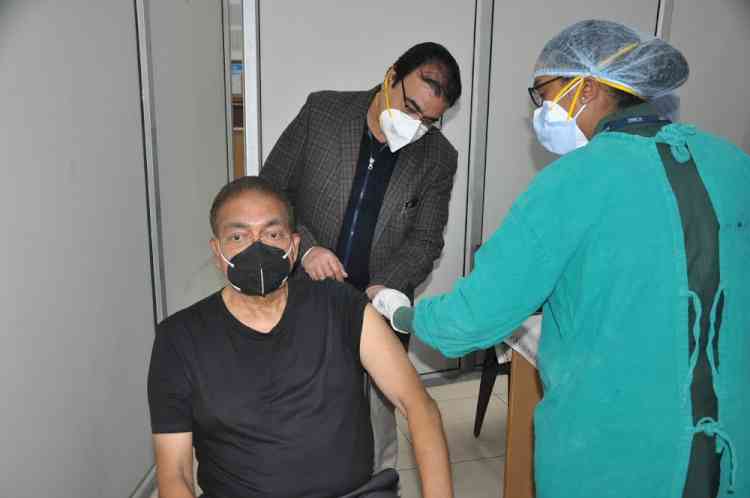 Ludhiana: During third day of COVID Vaccination Drive, jabs were given was given to Secretary of DMCH Managing Society Prem Kumar Gupta along with Sunila Gupta and Arvind Malhotra.  Doctors and employees of DMCH also got vaccinated today. In his message, Prem Kumar Gupta thanked the whole hearted efforts of Government of India, Punjab State Government and scientists of the nation in bringing out with this approved vaccine for Coronavirus.  
Other recipients of COVID Vaccination include Dr Harpal Singh (Orthopaedics), Dr Ajay Singh (Anatomy), Dr  Vipin Kumar (Medicine), Dr Priyanka Arora (Ophthalmology),Munish Kaalia ( Manager, Accounts), Chander Bhanot (Corporate Cell),  Saroj Khurana and Rajinder Singh (from Radiology Department, DMCH), Ajay Mahajan(Compute Section), Aayush Chaku (Public Relations Deptt).
In his message, Dr Vipin Kumar from Department of  Medicine and Dr Harpal Singh from Department of Orthopaedics emphasized that there is nothing to panic for general public to  get vaccinated against COVID because the vaccination has come out after proper trials.
Munish Kaalia (Manager,Accounts) says that he is feeling absolute  hale and hearty after getting vaccinated and urged the people to come forward  for getting COVID vaccination
In his message, Ajay Mahajan of Computer Cell  said that he didn't  feel any weakness or lethargy after the vaccination and worked with much more enthusiasm to feel proud in getting himself vaccinated.