The Kiran Nadar Museum of Art turns ten this year
Narrating from the museum archives and collection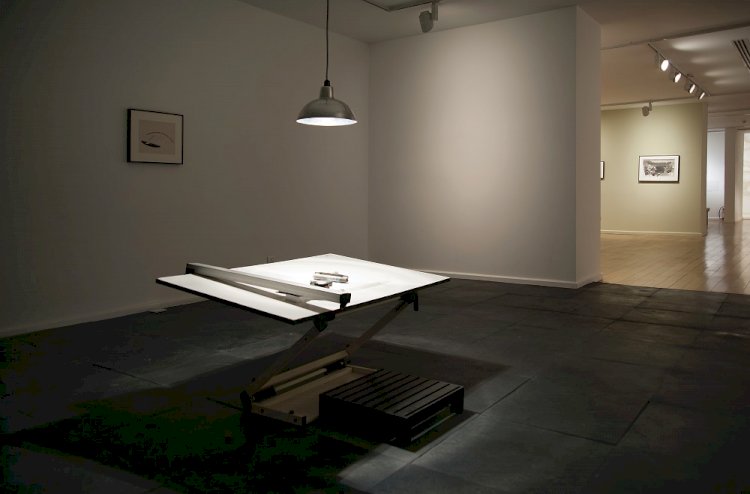 A reconstruction of Nasreen Mohamedi's study in Baroda inside her retrospective at KNMA, 2013..
New Delhi: We celebrate the past decade, bringing back vignettes that will highlight the museum's multi-focal vision, its evolving mission, directions and journeys undertaken, mapping intersecting histories of the subcontinent. Reflecting on KNMA's archive and collection built over the course of ten years of institution-building exercise and exhibition-making, this 10-years-exhibition reconsiders the complexities of inhabiting semi-permanent spaces, one inside a mall and the other in a technology hub. It explores the potential of a young coming of age institution in South Asia that is continuously plotting under-researched narratives, interventions, shared and collective experiences in art. 
 
We bring to the viewers different formats through which they can engage the material presented, moving through modes of information and interpretation, through visual and digital extracts on diverse exhibitions, films, documentation, sound, registers of networks and intergenerational conversations that the museum has immersed itself into. An embodiment of collecting patterns and stories, a collection mobilizes permanence as well as multiple lives that an artwork acquires when it enters the registers. The collection is both a numerical digit and an abstraction, flexible and open to further additions. It is with that fluidity and inherent tension that we approach the KNMA collection today that has steadily grown from 250 works in 2010 to 6000 plus artworks in 2020.
 
KNMA's presence has emboldened the visibility of South Asian Art across the globe. With seventy plus mega-exhibitions, 500 plus engaging programs, and facilitating multiple institutional collaborations all across India and globally, KNMA continues its giant leaps into the next decade.
 
Mrs Kiran Nadar, Founder and Chairperson, KNMA says, "I am happy with the way KNMA has marked its presence on the art scene of India and equally earned global attention. The coming decade at KNMA will be a celebration of new ideas, of discoveries and innovation, promoting contemporary artistic creations, young talents and art that is challenging and inspiring".
 
Ms Roobina Karode, Director and Chief Curator of KNMA who has led the institution over the last ten years defines this moment as an exhilarating and inspiring one. She says, "We are moving ahead with an amazing energy, synergy in an evolving capable team and a lot to accomplish as we go along. The encouragement from the art fraternity has been motivating and we are happy that the circle of art viewing audience/public is expanding through our sustained efforts".
 
The celebratory program for the tenth anniversary will unfold throughout the year, followed by the launch of KNMA exhibition and program archives.
AT A GLANCE 
Begins from 28th January, 2020
10.30am to 6.30pm
At KNMA Noida, Plot 3A, Sector 126, Noida
On view till 30th  June 2020