The consortium of Higher Technical Education Institution in Punjab is need of the hour
Top leaders of Punjab Higher Technical Education joined one platform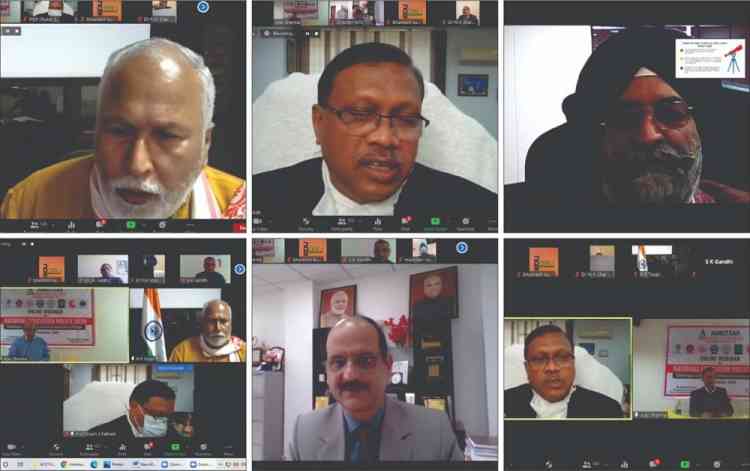 L-R: Prof R P Tiwari VC CU Bathinda, Prof. S.S Pattnaik NITTTR, Prof Dr Buta Singh VC MRSPTU Bathinda, Prof Lalit Awasthi Dir NIT Jalandhar.
Chandigarh: with an aim to new growth and development of Technical Education in Punjab, the Top leaders of Punjab Higher Technical Education institutions joined one technological platform on Tuesday morning. The e-event was organized by the Amritsar Group of Colleges (AGC), in which Vice-Chancellors and Directors of various Universities and National Technical Education Institutions participated. It was a webinar with practical exercises on the subject "National Education Policy (NEP) 2020 -Challenges in Higher and Technical Education in Punjab". Educationalists and experts from different Universities of Punjab have also attended the Webinar. 
In this webinar, Prof. R.P. Tiwari, Vice-Chancellor Central University Punjab Bathinda emphasized the consortium of Higher Technical Education (HTE) in Punjab. His idea was the sharing of resources that will be helpful for the implementation of the Education Policy in Punjab successfully. He mentioned that we all will work together to make education accessible to all by following Fundamental principles of non-discrimination, solidarity equality of opportunity, and universal access to Education. 
Prof. Buta Singh Sidhu, Vice-Chancellor, Maharaja Ranjit Singh Punjab Technical University, Bathinda said that it is a comprehensive policy that emphasis on the development of the creative potential of each individual. He highlighted statistics and the importance of Vocational education which will help students to enhance their God-gifted talents and benefit society. He also talked about the role of accreditations to propagate the way for grants, scholarships, and research in varied ways.
Prof. Lalit K Avasthi, Director, NIT Jalandhar spoke about NEP 2020 with reference to College Education and Teacher Education and highlighted that a better teacher education program is important to enhance the quality of education. He emphasized on more holistic and multi-disciplinary vision of education. 
Prof. Shyam Sunder Pattnaik, Director, National Institute of Technical Teachers Training and Research (NITTTR) Chandigarh stated that it is a realistic road map for the implementation of NEP. He said the teacher has been given a different and much-required responsibility-MENTORING. A teacher has to steer the energy and diversity of knowledge of students in the right direction. A teacher must have JOY out of giving. 
Prof. Buta Singh Sidhu Vice-Chancellor MRSPTU Bathinda, Prof. Lalit K Avasthi Director NIT Jalandhar, Prof. Shyam Sunder Pattinaik Director NITTR Chandigarh, Prof. R P Tiwari Vice Chancellor Central University Punjab Bathinda, was the keynote speakers.
Dr V K Banga, Principal AGC and Board member of I.K.Gujral Punjab Technical University (IKGPTU) welcomed all the eminent academicians and educationalists in the webinar and stated that The National Education Policy (NEP) 2020 is a milestone document in the context of nation-building, built on the foundational pillars of Access, Equity, Quality, Affordability and Accountability, this policy aims to transform India into a vibrant knowledge society and global knowledge superpower by making both school and college education more holistic, flexible, multidisciplinary, suited to 21st century needs and aimed at bringing out the unique capabilities of each student.
Adv. Sh Amit Sharma (Chairman & CEO, AGC, Amritsar) and Madam Ragini Sharma, Director Finance AGC congratulated all the eminent academicians, educationalists and entire team of AGC for the successful conduct of the webinar. They said NEP-2020 will create a new paradigm in the education system of India.
NEP 2020 is a very ambitious, aspirational, context-specific and a big dream for the transformation of the education system, said Dr. Rajneesh Arora, former Vice-Chancellor IKGPTU and Managing Director of AGC while delivering the vote of thanks. He said that this policy is realistic and focuses on the development of competencies, skills and critical thinking. Dr. Rajneesh Arora congratulated all the participants and show gratitude towards eminent speakers who have enlightened the participants with their wisdom.