Tenders related to 32-acre Jainpur Sports Park to be floated by January 2021: Bharat Bhushan Ashu
Experts from Guru Nanak Dev Engineering College to submit building designs within 2 weeks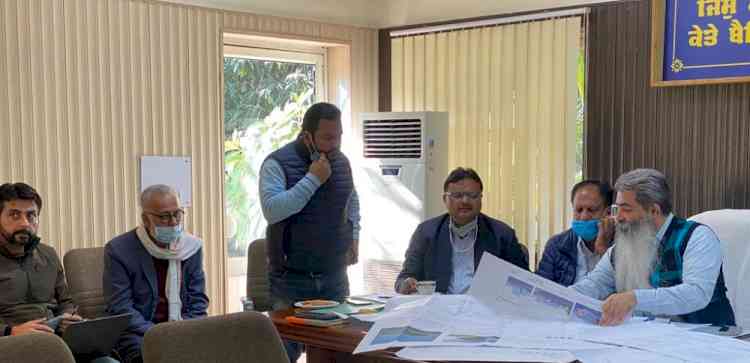 Ludhiana: Punjab Food, Civil Supplies & Consumer Affairs Minister Mr Bharat Bhushan Ashu today assured the residents that the tenders regarding the construction of 32-acre Jainpur Sports Park would be floated by January 2021. He informed that a team of experts from Aecom have been asked to prepare a detailed design of this mega sports project, whereas experts from Guru Nanak Dev Engineering College would submit the building design of this project within next two weeks.

A review meeting regarding this project, as well as projects related to upgradation of all existing sports facilities, was held at Mayor Camp office, here today. This meeting was also attended by Mayor Mr Balkar Singh Sandhu, MC Commissioner Mr Pardeep Kumar Sabharwal, MC Councillor Mr Sunny Bhalla, along with several prominent Ludhiana players and representatives of all sports organisations.

It is pertinent to mention that a sports park is coming up on 32-acre land at village Jainpur, where a garbage dump existed once.

While providing information, Mr Bharat Bhushan Ashu informed that this sports park would have playgrounds for cricket, football, hockey, lawn tennis, swimming pool, outdoor archery ground, 50m indoor shooting range, volleyball, badminton and table tennis courts etc, along with a 3.5-km long and 15-feet wide cycling as well as a pedestrian track. Besides, this sports park would also have a club area for sportspersons with refreshment lounge, children zone, yoga zone. He said that this project is coming up under the Ludhiana Smart City Ltd and the garbage dump site is being put to optimum use by constructing a sports park there.

Besides, a new table tennis court is also coming up near Rakh Bagh, whose architectural layout has been prepared. He informed that very soon, the two open basketball courts at Ludhiana Basketball Academy would be made indoor. He said that the DPR in this regard has already been prepared and the work is expected to start soon.

He further stated that he is committed to upgrade all existing sports facilities in the city. He said that the projects include laying of a new athletics synthetic track at Guru Nanak Stadium, indoor swimming pool, upgradation of the Shastri Hall, upgradation and repair of astroturf and a velodrome (cycling track) at PAU etc.

A meeting of all stakeholders who can contribute for the Jainpur Sports Park have been scheduled for Saturday. This meeting would be attended by all prominent players of Ludhiana, along with representatives of sports organisations. He said that discussions would be held so that the sportspersons can give their valuable suggestions so that it would become one of the best equipped sports park of North India.

He further said that the Capt Amarinder Singh led Punjab government is committed for carrying out overall development of the state. He said that the projects under Ludhiana Smart City project would be completed on priority basis and within the set time frame.