Tenali Rama is the best show I could do as an actor
Says Nimisha Vakharia on her comeback in Sony SAB's Tenali Rama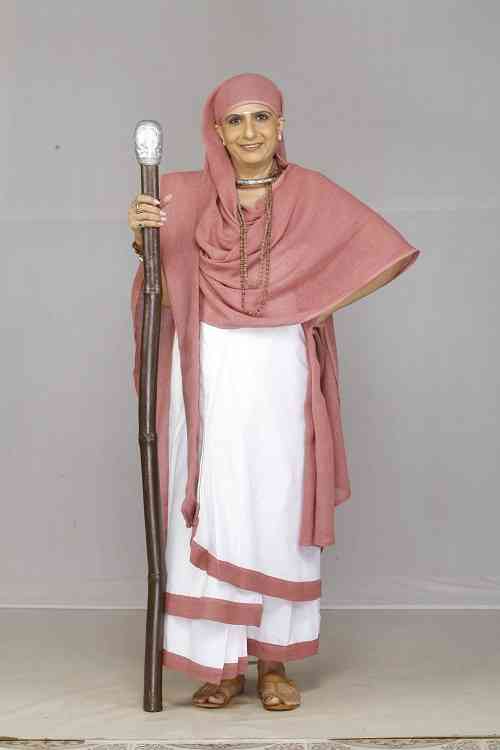 Nimisha Vakharia as Amma in Sony SAB's tenali Rama.
•    How does it feel to be back on the show, Tenali Rama?
•    I can very happily say that it feels like I have come back home. Although there are some changes in the cast, there is a certain ease as I get to have my same room and my on-screen son Rama. Even now, during my scenes with Rama, it all comes so naturally to me. However, when I shoot with Bhaskar's character, there is a little consciousness and I am still getting used to it. Apart from that, it gives me immense pleasure to be back on the show that has done so well and to know that I was amongst those members that started this show. 
•    The show has been running for around 2 and a half years now. How is that feeling?
•    It is a very big thing for a show like this to run for so long in today's time. When we started the show, none of us thought that the show will do so well but we have been a part of this journey and it makes us feel really proud. It feels great to look back to the initial days and think about the chemistry that we built between characters, especially Amma, Sharda, Rama and Gundappa. We were like a family and we have made these characters for they are today. All this has really kept our viewers entertained over time. 
     The show is based in a particular era and we can't relate to it with current happenings around the world. Hence, for a show like Tenali Rama to run for so long is a really big thing and we thank the viewers for showing so much love to the characters and the show.  
•    How is it working with the new cast of the show?
•    The first day I came and shot with Sharda, we instantly gelled and became comfortable with each other. Apart from that, I am glad that Rama is the same because we both have a different level of comfort and chemistry with each other. I don't usually have my shots with the remaining actors but they are all very warm and friendly. The day I came on the set, they all came in my room and made me feel comfortable. Even the director is  new but he trusted me with the character because I have lived the character previously. 
•    Your character doesn't speak and you have to depend on someone else to be your voice. How is that experience?
•    I honestly feel that Tenali Rama is the best show I could do, as an actor, because I don't speak in this and I have to perform and convey something only through my actions. For this, it was important to coordinate well with Sharda and it was a challenge, that our audience also accepted so nicely. I'm glad that I bonded really well with Aasiya from the first day of shoot itself, in the Naya Adhyaay, and this helped me perform better.
     Also, I don't have to wear jewellery or do too much of make-up for the role of Amma. It's just one dress and I'm ready for the shot. I don't even have the tension to put on mic before every shot. So, I'm very happy as an actor.
•    How does it feel to be working with Krishna Bharadwaj again?
•    We have a really good chemistry. We both are from theatre and maybe that's what really bonds us so well. During any of our scenes, we don't necessarily stick to the script- we improvise most times. This ease of instant improvisation comes only when you have a good chemistry with your co-star and that actually translates on-screen. While I shoot scenes with Rama, even today, as his on-screen mother, I know I can hit him in the scene, or when I feed something to Rama and if I wipe his face and I don't have to ask him whether I can do a particular thing in that scene. These little nuances bring life to that scene. 
•     Personally this is your 'Naya Adyaay' with Sony SAB too, your thoughts? 
•    Sony SAB has evolved big time. It's one of the top channels constantly and I feel really happy to be a part of this family. Not only is the channel known for everyone's favourite Taarak Mehta Ka Ooltah Chashmah but viewers also have a special liking towards many other shows on the channel like Tenali Rama, Aladdin- Naam Toh Suna Hoga, Baalveer Returns and all of these shows have contributed towards the growing success of the channel. Every show has a different flavor. We have given a plate full of desserts to our audiences and they are loving it. The entire team of Sony SAB has worked really hard towards this.