Team Hariyali consisting of 25 active members of custodians and CHAs constituted for plantation of saplings: A S Ranga 
Says saplings planted on a large scale across ICDs/CFSs falling under jurisdiction of Ludhiana Customs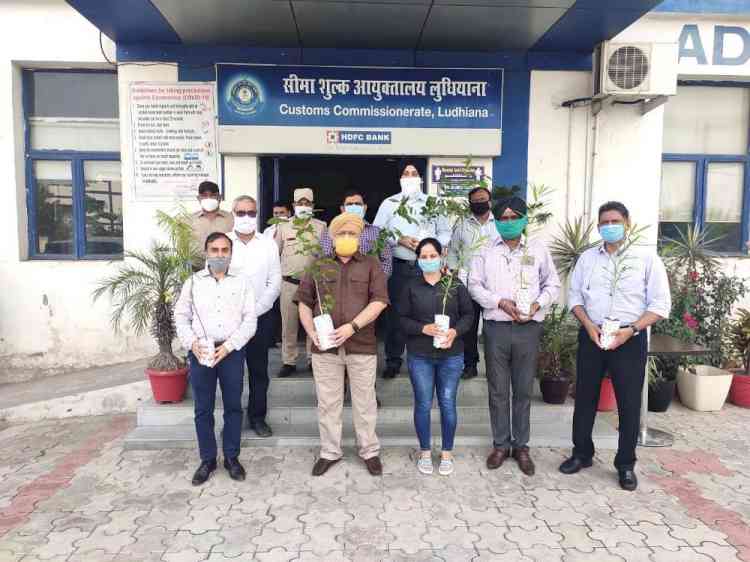 Ludhiana: Team Hariyali consisting of 25 active members of custodians and CHAs has been constituted for plantation of saplings on a large scale across ICDs/CFSs falling under jurisdiction of Ludhiana Customs. 
Commissioner of Customs, A. S. Ranga started the drive by distributing saplings for plantation drive to 'Team Hariyali' at office premises Sahnewal. The motto of the team is to create awareness about environment protection and to ensure clean and green environment.
Team Hariyali, has been given a target of planting 10,000 saplings in this monsoon season 2020 by motivating other members of society. For this, officers, members of the trade have been asked to download the "I-Hariyali" App developed by the Forest Department, Government of Punjab under Tandarust Punjab Scheme. Through this app, one can get 15 trees free of cost from nearby Govt Nursery. Further, Custodians of different ICDs/CFSs, members of Customs Brokers Association and Trade have also been motivated to plant and care saplings in and around premises of their ports and houses, to achieve the target. The saplings include plants like Sukhchain, Amla, Neem, Kanair, etc.
The "Team Hariyali" in association with members of trade had planted around 10,000 saplings in the monsoon season of 2018 and around 3,000 saplings in the monsoon season of 2019.
.