Tandem cycle ride to promote organ donation awareness
Tandem Cycle ride to create awareness on Organ Donation was organized by GLODAS in association with Aykai Hospital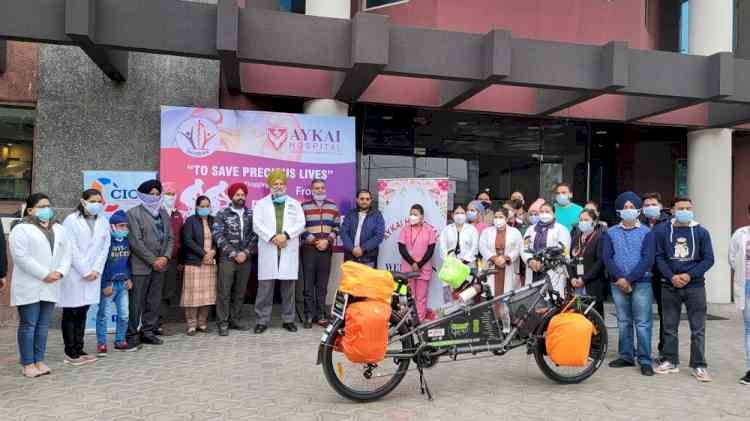 Ludhiana, January 14, 2022: Tandem Cycle ride to create awareness on Organ Donation was organized by (Gift of life organ donation awareness society)GLODAS in association with Aykai Hospital, Ludhiana. 
Dr Baldev Singh Aulakh, President GLODAS, Chief Urologist & Transplant Surgeon Aykai Hospital, Mr.Honey Sethi , Organising Secretary CICU and other industrialist flagged off the journey, with this Dr.Aulakh said "every year about two lacs patients need kidney transplant and one lac need liver & heart transplant. At present there is a huge gap between demand and supply of organs as only 10,000 patients undergo transplant and patients die while on the waiting list as they do not get an organ on time. A brain-dead person's organs can give a new lease of life to at least 9 patients suffering from organ failure. Hence there is tremendous need to create awareness about organs donation especially  after death.
Dr.Aulakh welcomed the riders Mr.Jatinder Singh s/o Mr.Amar Singh and Mr.Jatinder Singh s/o Mr.Jaspal Singh and appreciated them for undertaking this initiative of on road voyage for a noble cause. The riders added they will promote Organ Donation in all possible ways they can and will fulfill the motive. The tandem ride started from Ludhiana, Punjab  will enroute  3countries, 8 states and more than 30 cities via Ambala, Yamuna Nagar, Saharanpur, Muradabad, Barielly, Lakhimpur, Balrampur, Sanauli, Kathmandu, Sikkim & Bhutan  covering a total distance of 3000kms.