SVSU organized webinar on Atmanirbhar Bharat: Challenges and Opportunities in Developing Oxygen Concentrator
The Keynote Speaker of the Webinar was Raj Nehru, Vice-Chancellor Shri Vishwakarma Skill University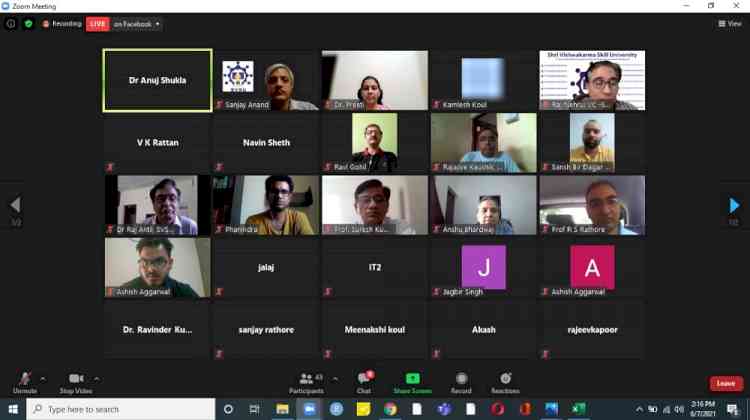 Chandigarh: Shri Vishwakarma Skill University organized a National webinar on Atmanirbhar Bharat: Challenges & Opportunities in Developing Oxygen Concentrator with the collaboration of Elofic Industries Ltd.
The Keynote Speaker of the Webinar was Raj Nehru, Vice-Chancellor Shri Vishwakarma Skill University. 
During the Webinar  Raj Nehru shared his views about how being Atmanirbhar is so important for us and our country. 
Prof. Navin Seth, VC, Gujarat Technology University, mentioned how being Atmanirbhar can be helpful for everyone but sometimes it's being ignored by other people. 
Prof. V K Rattan VC, GNA University and Dr. Shiva S, shared some of the technical aspects regarding the Oxygen Concentrator. 
Kamlesh Koul, VP, Elofics Ind. Ltd. shared his experience of working with SVSU. 
Prof. Suresh, Dean Engineering, shared about the project Sanjeevani and its journey. 
At the closing ceremony of the Webinar Dr. Anuj shukla, Scientist Elofics and Dr Preeti, Asst. Prof, SVSU gave the vote of thanks. 
During the webinar Registrar Prof RS Rathore, Dean Prof. Jyoti Rana, Deans of other Faculties, Officials, Teachers and Students were also present.