SVSU ORGANISED ONE-WEEK FDP ON QUALITATIVE RESEARCH METHODS
This FDP aimed at providing opportunities for faculty members to enrich their research skills in the field of Management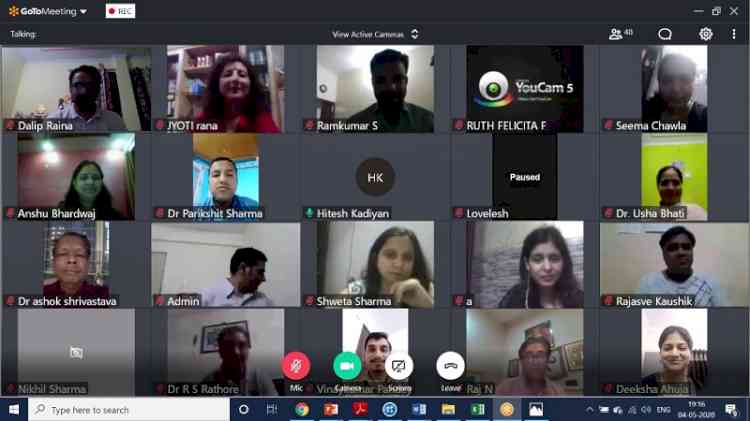 Participants from different states during online one-week faculty development programme organized by SVSU Skill Faculty of Management Studies and Research.
Chandigarh: SVSU Skill Faculty of Management Studies & Research organized a One-Week Faculty Development programme on Qualitative Research Methods for the holistic development of the teachers where participants from 13 States and 30 institutions have participated. 
The spokesperson of the University told that, the FDP programme was organized under the Chairmanship of Vice-Chancellor Sh. Raj Nehru and the convenorship of Dean SFMSR Prof Jyoti Rana. This programme focused on Qualitative response modelling, text mining, cluster analysis, thematic analysis and data mining. This FDP aimed at providing opportunities for faculty members to enrich their research skills in the field of Management. The Programme also intended to develop the knowledge of participants for Problem identification and research designing in the relevant field for inculcating research orientation among students. The FDP was attended by 60 faculty members and Research scholars of thirteen states like Delhi, Haryana, Uttarakhand, J&K, Pondicherry, Maharashtra, Punjab etc and different institution from all over India. 
The esteemed personalities Sh. Raj Nehru, Vice Chancellor, Dr. Ritu Bajaj, Registrar, Dr. RS Rathor, Dean Academics Dr. Jyoti Rana, Dean SFMSR & DSW, Dr. Suparn K. Sharma, Prof. Ajay Chauhan were present on the online platform of SVSU in inauguration and valedictory session of the programme. Prof Jyoti Rana, Dr Ajay Chauhan and Dr Suparna Sharma were the resource persons for the program. At the end e-certificates were distributed to all the participants. 
Dr Anshu, Dr Dalip were the coordinators and CA Shashi, Dr Pradeep were the co-coordinators of the workshop. 
VC congratulated Dean, SFMSR and team for organising national program in the period of lockdown.