Supervisors and enumerators should be deputed in their respective areas only: Director Census Operation Punjab
Census of 120 households have to be completed within 45 days; each enumerator to be paid Rs 25000 honorarium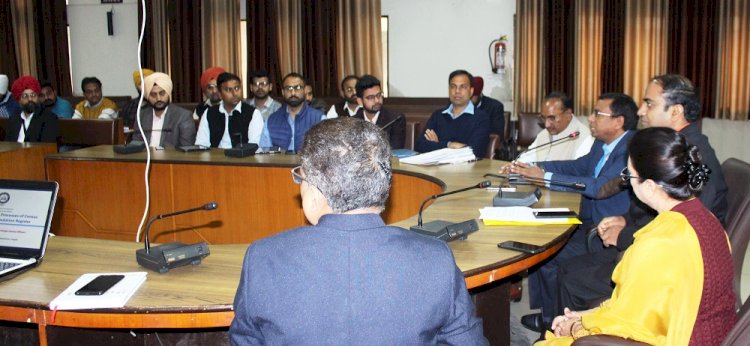 Ludhiana: Dr Abhishek Jain, IAS, Director, Census Operation Punjab, today clarified that the supervisors and enumerators for Census 2021 would be deputed in their respective areas only (place of their general duty) so that they do not face any problem while carrying out their routine work along with Census work. He said this while addressing the two-day training of District/Charge Officials, that started at Bachat Bhawan, here today.
Deputy Commissioner Mr Pradeep Kumar Agrawal, MC Commissioner Mrs Kanwal Preet Kaur Brar, ADC (General) Mr Iqbal Singh Sandhu, all SDMs and other officials were also present on the occasion.
During the training programme, Dr Abhishek Jain stated that the officials working in government or semi government sectors cannot refuse to discharge their duties regarding Census 2021. He said that around 65,000 enumerators and around 11,000 supervisors have been deputed for Census in the state. He informed that they would have to carry out the census work in addition to their routine duties and they would be paid good amount as honorarium.
He further stated that each enumerator would have to carry out census of 120 households in 45 days time, for which they would be paid Rs 25,000 as honorarium. The enumerators would have to carry out the census work with the help of a mobile application and if for some reason, they fail to use this mobile application, then they would be paid Rs 17,500 as honorarium only.
Dr Abhishek Jain said that regarding the census preparations, a pre-test was carried out in wards of three areas of state namely Mansa, Ferozepur and Ludhiana. And more than 84% of this work was done digitally with the help of mobile application and 16% deficiencies would be covered during this census operation. He said that the mobile application would be in Punjabi language and the monitoring of the census would be done by Director, Census Operations Punjab, Chief Secretary Punjab government and Deputy Commissioners by using online monitoring management system.
He directed the charge officials to ensure their presence in trainings to be carried out under them as the Census work is most important and any dereliction of duty would attract strict action. He stated that this Census 2021 would be organised by Registrar General and Census Commissioner under Union Home Ministry and would be held in two phases. The first phase would be held in May-June 2020 (likely from May 15-June 29, 2020), which comprises counting of homes, preparation of lists, besides updating the National Population Register. The second phase would be held from February 9-28, 2021, in which the census (population enumeration) would be carried out. Besides, from March 1-5, 2021, the revision would be done. The enumerators and supervisors for census field work are mainly teachers (primary and secondary) from education department, clerks or any official of the state government.
Deputy Commissioner Mr Pradeep Kumar Agrawal informed that the preparations regarding Census to be carried out every 10 years, have started in the district. He informed that there are 18 areas in district Ludhiana, such as Army areas, Jails and others, where the Census is to be done by their respective staff only. He has urged the residents and organisations to assist the Census in large numbers.
Mr Mritunjay Kumar and Mrs Pinky Rawat from Census Operation Punjab were also present on the occasion.