Sunaayy Foundation expands its wings to "City of Joy - Kolkata"
Delhi Based NGO has started its new centre at Rashbehari, Kolkata recently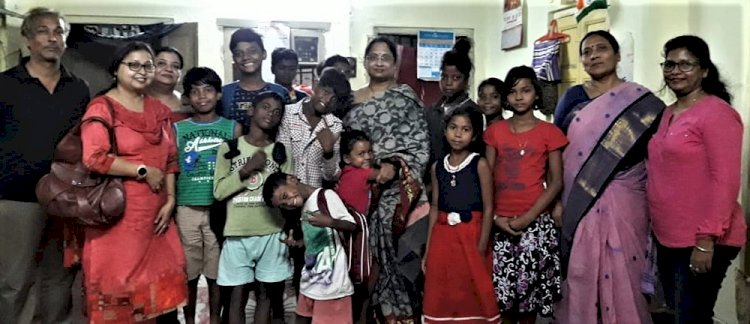 New Delhi: With the encouragement from many, Delhi based Sunaayy Foundation has started a volunteer-run initiative in Rashbehari, Kolkata under the banner of Sunaayy Foundation recently – a bridge was formed. The bridge provided the necessary resources to start and conduct the centre at its maximum potential. Based on the philosophy of providing basic education and life skills – generating capabilities for social asset creation, the centre handholds forty street children who are bereft of basic necessities. The activity-based curriculum not only focuses on academic learning but stresses on developing self- confidence and discipline. Further, a recreational trip was conducted this year to establish their bond with nature.
"Happy to spread our wings of inclusive learning to foster the sense of personal social responsibility in the City of Joy" said Richa Prasant, Founder of Sunaayy Foundation.
The walls that restrict the flow of benevolence, rights and opportunities have always been a matter of claustrophobia for me. Witnessing many paradigm shifts in the society at the age of 50, Taposhi Das believes that certain pre-historic barriers in the name of caste, creed and class still exist in our otherwise modern existence that stops us to carry out voluntary activities that are necessary for the upliftment and growth of our society. While looking out for an opportunity to break away from many such walls, Ms. Das met the likes of Richa Prasant and Prof. Anirban Chakrabarti who have dedicated their lives to the education of the underprivileged, running a four hundred strong free-tuition makeshift learning centre in New Delhi under the banner Sunaayy Foundation for the last 10 years. 
"By giving these children a chance to pursue their dreams, or, to open a door to the new world, we are not doing any favour to them. It is rather our duty to raise our future generation in such a way, that they can live in a world, which is free from all boundaries, discriminations and social barriers. Let there be awakening of all & sundries", said Suchismita Ghosh (CA), Executive Member, Sunaayy Foundation.