Sukhwinder Singh Bindra launches "cervical cancer youth ambassador program"
Function organised at circuit house today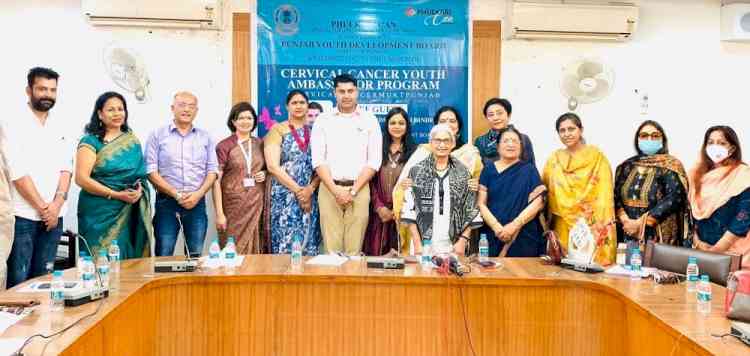 Ludhiana: Under the aegis of Phulkari CAN, the philanthropic wing of Phulkari WOA, a leading women's organisation of Amritsar, Punjab Youth Development Board chairman Sukhwinder Singh Bindra today launched the Cervical Cancer Youth Ambassador Program on International Women's Day.
While speaking on the occasion, Sukhwinder Singh Bindra said that this program targets to keep women safe from Cervical Cancer all over Punjab, across cities & the hinterland, by mobilizing the youth of the state from NSS & other Youth Clubs & recruiting them as ambassadors to spread Cervical Cancer Awareness.
The launch was also attended by Dr Sukhwinder Kaur, Principal of Government College for Girls, Ludhiana, Dr Saroj Aggarwal President of Indian Medical Association, MC Councillor Rashi Aggarwal & several other distinguished guests.
Founder, Phulkari WOA, Praneet Bubber said, "This program takes us closer to our aim of making Punjab the 1st Cervical Cancer free Indian state by increasing our outreach in spreading awareness among the youth of Punjab, the target audience for the program. "
Phuikari WOA President ( 2020-22 ) , Deepa Swani said , " We are very honoured to be able to associate ourselves with the Punjab Youth Development Board as our aims are aligned " Phulkari CAN ( Philanthropic Wing of Phulkari WOA ) President, Nidhi Sindhwani said, " We have been working to spread Cervical Cancer awareness since 2018. We have conducted 55 awareness sessions through which 2.6 Lakhs people have been impacted & conducted free screening for 150 underprivileged women. In this month alone we will be conducting free screening for 100 underprivileged women. "
This program has been spearheaded by Program Head, Phulkari CAN's Conquer Cancer Priyanka Goyal. It was also attended by Phulkari WOA, Mentor Kamal Uppal & Program Heads Dr Richa Thaman & Neha Sharma. Vice President Sheetal Khanna & Program Heads Dr Rashmi Vij & Dr Neeru Gupta are actively involved in all the activities conducted to eradicate Cervical Cancer.
Mr Nitin Tandon, Mr Nitin Arora, besides several others were also present on the occasion.