Successful completion of 10 days online workshop on research methodology
Around hundred participants took part in it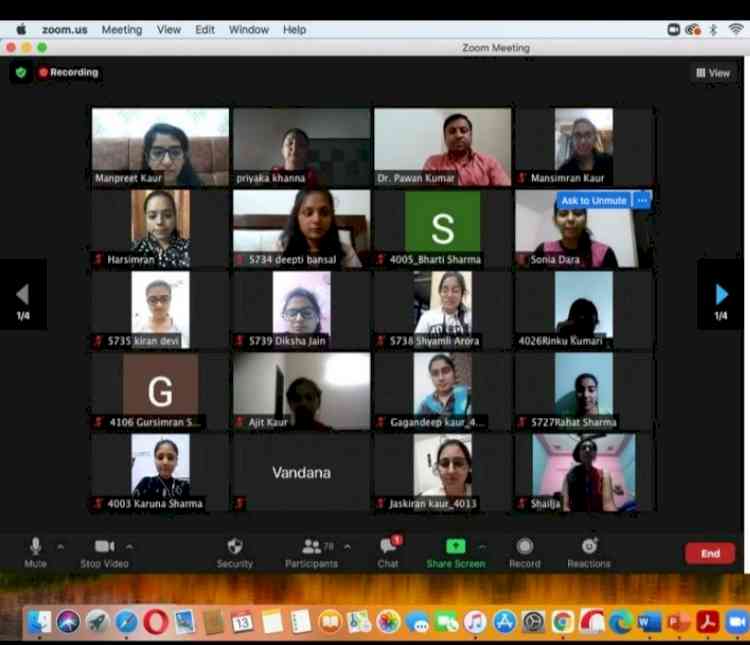 Ludhiana:Post Graduate Department of Commerce of Ramgarhia Girls College, Miller Ganj, Ludhiana in association with Post Graduate Department of Commerce, Khalsa College for Women, Civil Lines, Ludhiana organized a workshop on Research Methodology from 5th April 2021 to 14th April 2021 for faculty, students of PG classes and Research scholars. Around hundred participants including students,  staff members and young researchers took part in it.
Dr Pawan Kumar, Associate Professor, Mittal School of Business, Lovely Professional University, Punjab was the resource person. 
Dr Priyaka Khanna, Coordinator IQAC, Khalsa College for Women and Professor Ajit Kaur, Head, Department of Commerce, Ramgarhia Girls College presented an inaugural speech to welcome Dr Pawan Kumar. 
Dr Priyaka Khanna was the resource person for first two days and acquainted the participants with the Basics of Research, its methods and approaches, Research Programme and Research Design . She imparted great knowledge of scientific study and its practical relevance  for PG students so that they may attain command in the related subject. Dr. Pawan Kumar apprised the participants with Fundamentals of Scales, Measurement and Introduction to SPSS, Questionnaire Design, Validity and Reliability ,Parametric and Non-parametric tests like Annova ,Factor Analysis Conjoint Analysis and Research Paper writing etc. 
He also taught students  various techniques to use the SPSS  software by examplifying live examples ,data sets and tables. He also maintained  high degree of involvement of the students by providing them assignments for deep understanding of the related topics. Professor Ajit Kaur Head, Dept., Of Commerce, Ramgarhia Girls College talked about the importance of this workshop for students. She also added that all of these topics would be of great help to the budding researchers. S. Ranjodh Singh, President Ramgarhia Girls College applauded the efforts of both PG departments and students for being  fortunate enough to be the part of this great learning workshop from eminent resource persons who have enlightened their path with knowledge. While addressing to the students, Dr. Mukti Gill Principal, Khalsa College for Women shared her immense pleasure that pupils are gaining experience in the field of research that would  be beneficial for them certainly . She also said that these kind of workshops will not only  shape up their minds but also be of great use in their jobs and businesses in future. 
Dr. Rajeshwarpal Kaur, Officiating Principal, Ramgarhia Girls College applauded the tireless efforts of the departments for organising such  workshop . She appreciated the active participation of the students  and said that topics which were talked about would be a foundation period for new researchers as it would make their journey towards research easy. At the end, both the Principals patted the back of the departments for making this online workshop a great success.