Students urged to develop innovative ideas in business
Interaction with students of experiential learning programme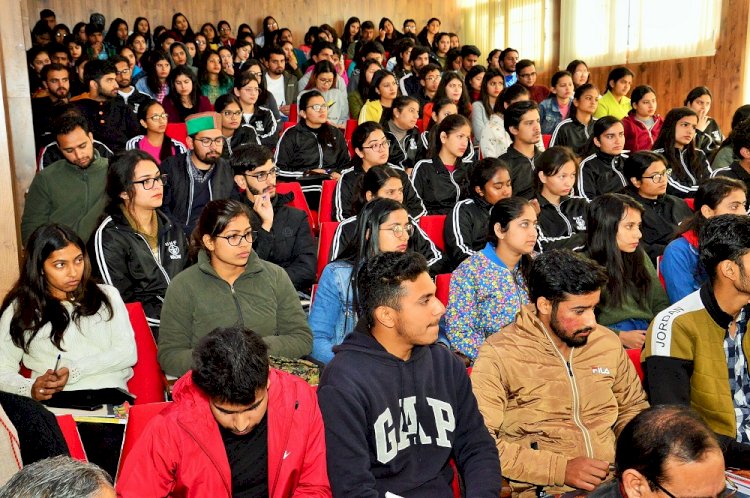 Nauni (Himachal Pradesh): Vice-Chancellor Dr Parvinder Kaushal urged students to develop their novel ideas in agriculture, horticulture, forestry and allied disciplines into successful business ventures by utilizing the various government schemes for the promotion of startups. Dr Kaushal was interacting with students of Experiential Learning Programme (ELP) and third-year BSc (Hons) Horticulture during a one-day workshop on 'Startup Ideas on Entrepreneurship' at Dr YS Parmar University of Horticulture and Forestry (UHF), Nauni. The Incubation Centre of the university, Department of Business Management organized the workshop in collaboration with the Industries Department of the state.
 
While interacting with the students, Dr Kaushal said that students must have confidence in their business ideas and assured them that the university will provide all technical support for nurturing their ideas into successful businesses. The Vice-Chancellor added that it was important that there was knowledge sharing between industry and academia and collaboration for training of human resource. He added that vocational courses for meeting specific demand of the industry can be started while the industry could contribute through fellowships and expert lectures. Dr Kaushal also mooted the idea of setting up small demo units with the help of the industry and added that the university was also in the process of signing MoU with the Industry Department, which will benefit the students in securing jobs, trainings and pitching their idea to the industry.
 
Rajiv Kumar, General Manager (Industries) was the Guest of Honour during the workshop. He said that the state government has started several schemes like Mukhyamantri Swavalamban Yojana, Chief Minister's Startup Scheme, for the promotion of startups, which can be utilized by budding entrepreneurs. He also spoke about the various schemes of the state government for enabling setting up new businesses. Vineet Rai, Director of Meridian Medicare Pharma Ltd, and an alumnus of the university also interacted with the students. He advised that the students must think out of the box to be successful. Dr Rajesh Bhalla, Coordinator of the workshop, Dr KK Raina and Dr Manoj Vaidya and Neha Chauhan, Manager DIC Solan also addressed the participants. Director Research Dr JN Sharma, Deans Dr Kulwant Rai and Dr ML Bhardwaj, and other faculty members also attended the event.