Students of Innocent Hearts Group of Institutions performed excellent in University Examination
70 students secured more than 8.5 SGPA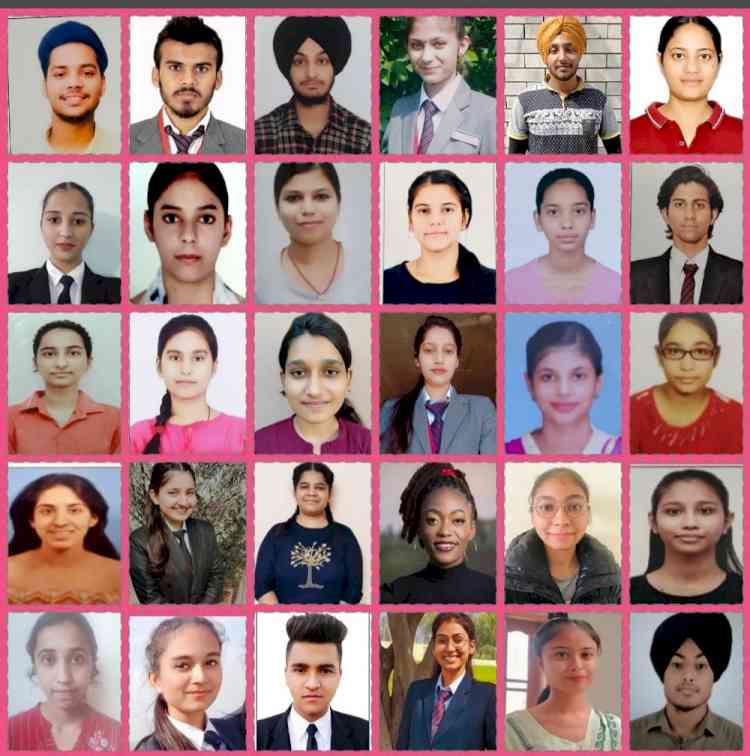 Jalandhar, March 21, 2022: Students of Innocent Hearts Group of Institutions brought laurels to the institution with their excellent performance in IKG-PTU University examination. 70 students secured more than 8.5 SGPA. This achievement is possible with quality education policy and constant hard work done by students.
BCA-1st semester students Daisy and Manpreet Kaur secured 9.44 SGPA, Aakash secured 9.12 SGPA and Harshdeep got 8.84 SGPA. Manisha from BCA-3rd semester secured 9.17 SGPA, Radhika secured 9.0 SGPA, Manroop got 8.83 SGPA, Guatam Jaswal got 8.74 and Lovepreet secured 8.61 SGPA. BCA-5th semester students Ekta secured 9.13 SGPA and Dushal, Gurjeet, Narayan & Nikita got 8.87 SGPA.
BBA-1st semester students Komal, Arshprabha and Sukhvir kaur got 8.64 SGPA. BBA-3rd semester student Manjot Kaur secured 8.96 SGPA, Muskan and Sejal Seth secured 8.7 SGPA. Twinkle, Vishakha and Harmanpreet Kaur of BBA-5th semester got 9.04 SGPA.
B.COM (H) -1ST semester students Suhani Jain secured 8.88 SGPA, Chandan and Varsha got 8.64 SGPA. Aliza from B.com (H) 3rd secured 9.04 SGPA, Ashneet and Kanishka secured 8.74 SGPA. Ikwinder and Rajneet Kaur from B.com (H)-5th semester secured 9.04 SGPA.
Ankita from MBA-1st semester got 8.86 SGPA, Kamaljit and Rupali got 8.71 SGPA. Rajwinder and Shivam Nayyar of MBA-3rd semester got 8.94 SGPA.
BHMCT-1st semester students Khushi, Sukhjeet kaur and Simranpreet kaur secured 9.0 SGPA.
BHMCT-3rd semester students' Priya and Bhawika Kapoor got 8.95 and 8.76 SGPA respectively. Gursewak and Renu from BHMCT-5th semester got 10 SGPA, Simranjit Kaur secured 9.56 SGPA. Bhavneet Kaur, Harpreet Kaur and Ranveer singh of BHMCT-7th semester got 8.87, 8.74 and 8.61 SGPA respectively.
BTTM-5th semester student Deepak Kumar got 8.95 SGPA, and BTTM-7th semester student Khushboo got 8.48 SGPA.
MLS-1st semester students Roshni and Rajvir got 9.35 and 8.92 SGPA. Harleen Kaur, Natasha and Sakshi from MLS-3rd semester secured 9.43, 9.38 and 9.05 SGPA respectively. MLS-5th semester students Harpreet Kaur got 9.42, Deepika Pal got 9.26, Jyoti secured 9.11 SGPA and Ashpreet Kaur & Agness got 9.05 SGPA.
B.Sc Agri- 3rd Sem students Arvinder kaur, Jhalak Nanda and Gautam Kumar  secured 9.26,9.22 , 8.88 SGPA respectively. B.Sc Agri- 5th semester students Nikhil Kumar attained 9.25 SGPA, Sourabh Nirala and khushboo secured 9.17 SGPA, Ansh Sharma secured 9.08 and Ravi Kumar secured 9.04 SGPA. B.Sc. 7th semester students Vipasha Thakur secured 9.26 SGPA, Sunali and Tapoja secured 9.19 SGPA.
Dr. Shailesh Tripathi (Director, IHGI) and all faculty members congratulate the students for this achievement and wish them good luck for their future endeavours.