State Youth Achievers Award to Satvir Singh by Punjab Government
Award was conferred to Satvir Singh by Rana Gurjeet Singh Sodhi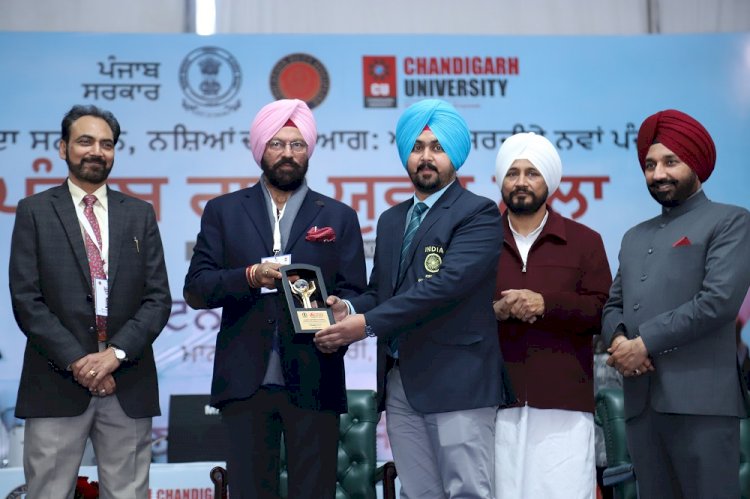 Ludhiana: Punjab Government awarded Punjab State Youth Achievers Award to S Satvir Singh (International Folk Dancer & Director) from ludhiana for his achievements in the field of Punjabi Folk Dances at national and international level.

This award is conferred to Satvir Singh by Rana Gurjeet Singh Sodhi, Minister of Sports, Youth & NRI Affairs, Government of Punjab during the Punjab State Inter University youth Festival organized by the Directorate Youth Services, Government of Punjab at the campus of Chandigarh University, Mohali.
Satvir Singh brought many laurels for the country by winning medals in Punjab Folk Dance Bhangra by representing India at International level. Satvir represented India in folk dances at Fiji and Nauru in 2019 sponsored by Indian Council for Cultural Relations, Ministry of External Affairs, Government of India. Satvir won Gold, Silver and Bronze medals in International Dance festival held at United Kingdom in the year 2017, 2018 and 2019. Satvir also won second prize in folk dance bhangra at
International Dance competition held at University of Technology, IPOH, Malaysia in November 2017.
Satvir Singh continuously working to uplift the Punjabi Folk Dances. Satvir Singh is paneled Judge for the Punjab Folk Dances of all Government & Private State Universities. Till date he judged more than 50 competitions of Punjabi Folk Dances.
Dr Nirmal Jaura, Director Youth Welfare Panjab University, Chandigarh, Dr Ravinder Kaur Dhaliwal, Director Students Welfare, Punjab Agricultural University, Ludhiana congratulated Satvir Singh for getting this award.