State government is relaxed on scams in Himachal: Bali
Says resignation of BJP state president itself is proof of that many big bosses shall be exposed soon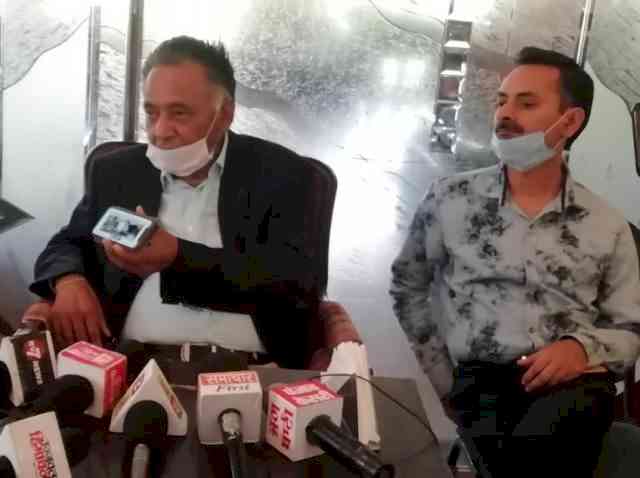 EX-Minister and Senior Congress leader of Himachal GS Bali addressing the media persons at Kangra on Sunday.
Dharamshala: EX-Minister and Senior Congress leader of Himachal GS Bali asked state government why so much time has taken to arrest the second culprit of the alleged health scam. He said that the second man was held yesterday after many days the director of Health was arrested in health purchase scam. He said, "The scam is big and many big names are there. The resignation of BJP state president itself is proof of that many big bosses shall be exposed soon." He said that the CM must make the vigilance transparent. The government must put all culprits soon behind the bars to prove that it is working for the welfare of the public. Bali said that the delaying tactics of the state government are indicating that the authorities are trying to hush-up the matter to save many culprits.
Addressing a press conference in Kangra today, he said that in the BJP's two and a half year rule in state, apart from the Health Department, a big scam has also come to light in the Rajiv Gandhi Engineering College Nagrota Bagwan were the Covid warriors(safai karamchari) are being cheated by the contractor, who is said to be a BJP man. It proves that the BJP is doing politics to pressurise the competent officers by harassing them, which will never be tolerated. He said that the institution has been declared covid care institution and the BJP man is looting the poor Covid workers, and the government is silent.
He said that if the scandals made by the government were not investigated impartially, the Congress would not shy away from organizing a big agitation against it with the support of the people.
He said that in the last two and a half years, the government has not given any project to the lower area of the state and one third of the people of the state feel cheated for it. He said that during congress rule, many big projects have been brought up in Nagrota Bagwan including Engineering College, Degree College, Architect College, Dr. Rajindra Prasad Medical College Tanda, due to which the Nagarota Bagwan assembly constituency has been named among best developed constituencies in India.
He said, "Our organisation requested the government to establish 24 hour LANGAR in Kangra, so that labour may not leave the state, but it was denied. And now the labour is not available to run businesses in the state."
He said that now the guidelines which are issued to restart the hotel industry is illogical and unaccepted by hoteliers. "How can this industry start again with such instructions of the state government," asked Bali.