Sports 13 with Vidyadaan organizes online workshop on `immunity and strength an ultimate key'
Former national athlete, Yadvinder Singh motivates people to adopt healthy lifestyle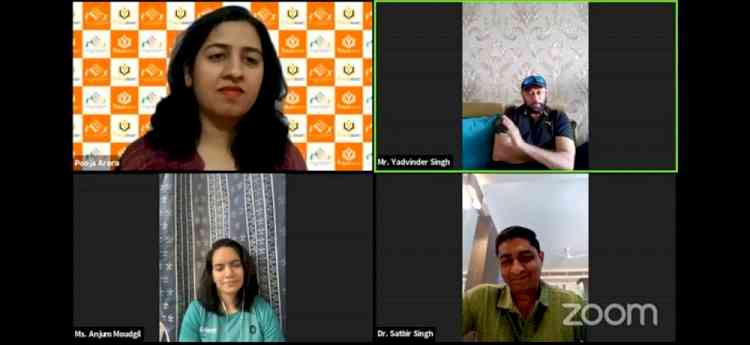 Ace shooter, Anjum Moudgil(clockwise fourth), Yadvinder Singh(clockwise second), Former National Athlete, participating in an online workshop.
Chandigarh:  With an aim to inspire the youth to adopt a healthy lifestyle amid the ongoing pandemic- Sports 13 in collaboration with Vidyadaan organized an online workshop on "Immunity & Strength an Ultimate Key" recently.
The speakers in the online workshop were Anjum Moudgil, an Indian Sports Shooter, Yadvinder Singh, former national athlete, and Dr. Satbir, sports medicine consultant & ex-India hockey team physician cum exercise physiologist. Emphasizing the importance of 'Fitness' amid the rising cases of Covid-19 strain, Yadvinder Singh, former national athlete said, "It's never too late to adopt a healthy lifestyle no matter what your age or physical condition is. Everyone can start his or her fitness journey by just doing normal physical exercises like a morning walk etc, can steadily increase their immunity."
"'Mental fitness' is just as important as physical fitness and shouldn't be neglected at any cost. By doing simple meditation one can reap several benefits", added Yadvinder.
India's ace air rifle shooter, Anjum Moudgil, shares, "Painting gives me a sense of catharsis. It helps me to be in the moment, bestows me with calmness, and helps me recover from rigorous training. Painting also helps me control my emotions and increases my focus." It is to be mentioned that Anjum Moudgil a Commonwealth Games silver medalist in the shooting is also a skillful artist.
Tokyo Olympics quota holder, Anjum Moudgil, who will be seen in action after a long hiatus at Shooting World Cup, in New Delhi, said that she is fully prepared to give her best at the upcoming shooting event in New Delhi.  Commenting that the pandemic was an unprecedented challenge, Anjum said, "It was the longest period that left us out of the game for so long and disrupted many major events like even the Tokyo Olympics. I tried to take it very positively and utilized every bit of time in a good manner. I worked on my focus level and minute details of my shooting skills. And now am ready to put up my best at the upcoming world cup."
Dr. Satbir, former BCCI Specialist Academy Rehab Head said, "To counter the boredom and mental stress one should occupy himself or herself with extracurricular activities like painting, reading, meditation, or any other physical activities."
Yadvinder Singh, who is also the founder of Sports 13, has announced to bring more sports celebrities in the upcoming workshops with Vidyadaan to keep motivating the younger generation. He further revealed that he also has been preparing under the guidance of Milkha Singh and Dr. Satbir for the World Veteran Athletic meet which is going to be held in Canada, in which he will take part in the 100 and 200 meters events.