Spectacular result of CBSE X class of Innocent Hearts
Ananya Kapoor topped by scoring 99%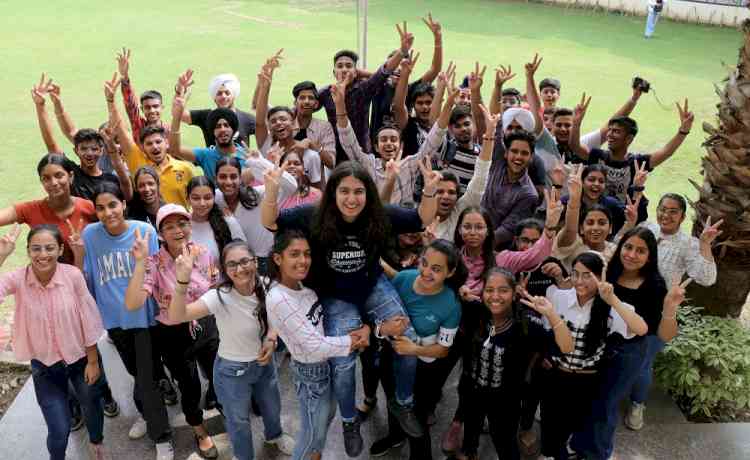 Jalandhar, July 23, 2022: The students of Innocent Hearts School, Green Model Town, Loharan and Royal World Branch achieved great success in Grade X result declared by the Central Board of Secondary Education (CBSE) for the year 2021-22.  38 students scored above 95 percent and 101 students above 90 percent and 207 students got more than 80 percent marks.
In the Green Model Town branch, Ananya Kapoor stood first by getting 99%. Dakshi Shukla and Shikhar Mahajan stood second by getting 98.4%. Bhavya Khosla achieved third position by getting 98.2%. 
In the Loharan branch, Mousami stood first with 98.2% Jessica got second position by getting 97.6%.  Third position is secured by Vardan Seth by getting 97.4%. In RWIS, Sehajbeer stood first by getting 91.6%. Tanpreet stood second by getting 90.8% and Vonisha stood third by getting 90.4%. The students secured maximum marks of 100 in English, 05 students, 04 students in Maths, 07 students in Science, 04 in Social Science and 02 students in Punjabi.

The Principal, Mr. Rajeev Paliwal, Green Model Town, Ms. Shallu Sehgal, Loharan, Mrs. Meenakshi Sharma RWIS applauded the efforts of the students and motivated them. 
Dr. Anup Bowry Chairman, Innocent Hearts congratulated the teachers and parents on this stupendous success and wished the students all the best for their bright future.