Speakers share their motivational stories at CT World School
CT Group organizes Open Mic- Season 2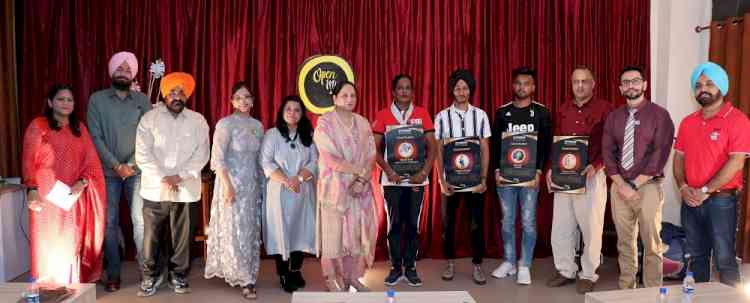 CT Group Co-Chairperson Parminder Kaur Channi, MD Manbir Singh while honoring guest speakers for Open Mic at CT World School.
Jalandhar: Giving a platform to people who are contributing their bits in the society, and to share their inspiring stories, CT Group organised one of its kind events named Open Mic Season-2 at CT World School. In this, five speakers from varied fields shared their life struggle, challenges and accomplishments.

Speakers namely Founder President of NGO Dastak Sandeep Chahal, Fashion Consultant Shelja, Punjab's female ambulance driver Manjit Kaur, Founder Rising Star Disable Youth Club Harinder Pal Singh and Indian Hockey Player Harjeet Singh shared their life inspiring stories with the audience gathered. A guest performance was given by Ritik Gill, a budding singer.

While sharing her story, Manjit Kaur said, "It was a struggle against a series of unfortunate episodes in life that led me to make a mark for myself by choosing a profession usually similar to men. While there are other private ambulance male drivers who keep their vehicles parked in the Civil Hospital waiting to get a patient to be transferred to another hospital, I stand out among them being the only woman driver. It is a very satisfying experience when I gets to know that I managed to save precious lives. But being a woman, I face a lot of interrogation from the patients' attendants. They would keep on asking me if they would be safe in my ambulance. Sometimes, it takes me a lot of time to convince the families to hire my vehicle. Initially, I had to often offer lower charges from my male counterparts to get customers. I have seen many experiences in life on personal front as well. But all this made me stronger and independent."

Indian Hockey Player Harjeet Singh shared his journey of life when he started playing hockey in the year 2005 just to get free t shirt and shorts. He discussed at length about his struggle from an amateur player to the winner in World Cup in 2016.
Founder Rising Star Disable Youth Club Harinder Pal Singh threw light on his struggling phase when society and bhangra teams refused to get associated with him. He narrated his story that how he entered into bhangra and after getting criticism for his disability, he took this as a challenge and today he leads a bhangra team of 22 performers.

On this occasion, Parminder Kaur Channi, CT Group Co-Chairperson, Madhu Sharma, Principal CT World School and Amrit Kalsi, HOD Centre of Happiness were present along with locals of city. The event was anchored by Assistant Professor Vikrant Rehani and coordinated by Davinder Singh, Cultural Officer.

Parminder Kaur Channi, CT Group Co-Chairperson and Managing Director Manbir Singh thanked the speakers for sharing their inspirational stories and also extended her support in any area whenever required.